Viktualienmarkt: shopping, food, beer garden and souvenirs
Viktualienmarkt: A top sight in Munich
If you are visiting Munich, you have to stop by Viktualienmarkt in the center of the city to see the unique market has to offer: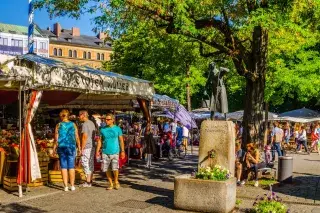 trabantos / Shutterstock.com
The most important information at a glance
The Viktualienmarkt is one of the top sight s in the center of Munich
Not only can you buy fresh goods like fruits and vegetables here, but also eat excellent food
Worth seeing are the Maypole in the middle of the market, as well as the statues and fountains
For souvenirs, the Viktualienmarkt also offers some of the most ideal for your pleasure
Getting to the market is pretty easy, as once you reach Marienplatz with the S-bahn or tram, it's only a walk away.
Opening hours
When is the Viktualienmarkt open? Generally: Monday through Saturday from 8 a.m. to 8 p.m. (with exceptions for florists, restaurateurs and bakers). On Mondays, some stalls are closed.
Food, beer garden and souvenirs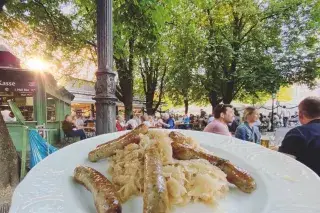 Whether coffee from the coffee roastery, a soup from the Munich soup kitchen or one of the refined creations of the Caspar Plautz team - no one has to go hungry at the Viktualienmarkt. Especially for a snack in between sightseeing, the Viktualienmarkt is a tip. The beer garden is also extremely popular and perfect if you want to strike up a conversation with Munich locals.
The Viktualienmarkt is also a good place to buy souvenirs: from natural combs and shaving brushes to wooden kitchen accessories, lovingly designed Munich souvenirs and the finest patisserie - at the Viktualienmarkt you can find things that are only
Brunnen auf dem Viktualienmarkt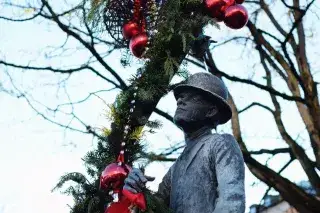 Während ihr die Stärkung eurer Wahl sucht, achtet mal auf die Brunnendenkmäler, die auf dem Markt verteilt sind! Sechs Münchner Persönlichkeiten trifft man hier an:
Karl Valentin
Liesl Karlstadt
Ida Schumacher
Roider Jackl
Elise Aulinger
Weiß Ferdl
What there is to see around the market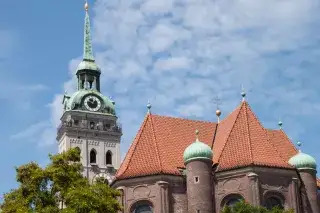 While you're looking for the refreshment of your choice, take a look at the fountain monuments scattered around the market! Six Munich personalities can be met here: The legendary Karl Valentin, Liesl Karlstadt, Ida Schumacher, Roider Jackl, Elise Aulinger and Weiß Ferdl.
A great overview of the market is offered by the viewing platform on the Alter Peter.  It is also worthwhile to take a look inside Munich's oldest mentioned parish church.
The Catholic Church of the Holy Spirit at Viktualienmarkt is also one of Munich's oldest churches. And the historic Old Town Hall and the world-famous Marienplatz with its carillon are not far away from the market.
Maibaum auf dem Münchner Viktualienmarkt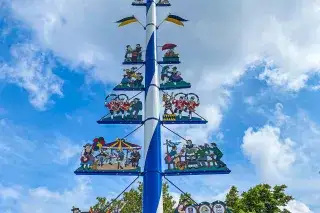 Das schon von weitem sichtbare Wahrzeichen des Viktualienmarkts ist der riesige Maibaum, der im Abstand von einigen Jahren dort immer wieder neu aufgestellt wird. Erstmals wurde die blau-weiße Stange am 4. Mai 1962 im Herzen des Marktplatzes hochgezogen. Übrigens auf Anregung des damaligen Bürgermeisters Albert Bayerle mit dem bekannten Ausspruch: "Wenn wir schon ein Dorf sind, dann brauchen wir auch einen Maibaum". Heute ist der Maibaum aufgrund seiner guten Sichtbarkeit ein beliebter Treffpunkt auf dem Viktualienmarkt.
Bavarian tradition: Maypole at the Viktualienmarkt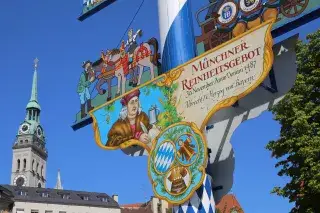 The Maypole at the center, carries figurettes that display the trades and crafts from this part of Munich. Maypoles date from ancient times and represent a village or borough and its trade - also for traveling salesmen or craftsmen looking for a new master to learn from.

Maypoles are common to Celtic countries and therefore to Bavaria as well. They are also popular in some parts of England.
Woher hat der Viktualienmarkt seinen Namen?
Der Name des Viktualienmarkts stammt aus dem 19. Jahrhundert und geht auf das Wort "Viktualien" zurück, das man damals als Synonym für Lebensmittel gebraucht hat. Es hat seinen Ursprung im lateinischen Wort "victus", was "Nahrung" bedeutet. Zu dieser Zeit war es im deutschen Sprachraum modern, deutsche Wörter zu lateinisieren. Davor wurde der Ort meist einfach nur Marktplatz genannt. Nicht zu verwechseln ist der Viktualienmarkt in der Altstadt übrigens mit dem Pasinger Viktualienmarkt, der sich im gleichnamigen Stadtteil im Münchner Westen befindet.
History of the Viktualienmarkt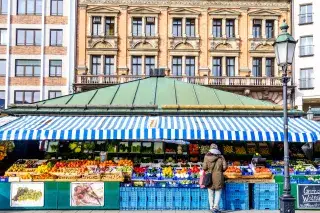 When the city's food market grew too large for the Marienplatz central square, King Maximilian I issued a decree in 1807 to have it moved a few meters towards the south-east. It was erected at the square between Heiliggeist-Kirche and Frauenstrasse. Charity buildings that once belonged to the church were demolished to make way for the market square or "Marktplatz", which later became known as "Viktualienmarkt" or Victuals market.

In 1823, the market got larger again, and over the years a number of market halls were added. Schrannenhalle, the precursor to today's "Großmarkthalle" or Great Market Hall, burnt down in 1932 and was reopened in 2005. A butchers' hall, fish hall, pavilions for bakeries and fruit vendors, stands for fowl and venison, and flower shops were added.
After World War II, the market place was revived by the city administration and the citizens of Munich enriched it with memorial wells for folk singers and comedians such as Karl Valentin, Weiß Ferdl and Liesl Karlstadt. It's worthy to note that water has always played an important role on the market square. In fact, 7 brooks, which were connected to the river Isar, flowed across the square years ago.
M-WLAN - Free WiFi in Munich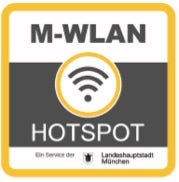 The free M-WLAN service is available at numerous locations in Munich, allowing users to surf the Internet free of charge.
M-WLAN is a free service offered by the city together with Stadtwerke München as the technical partner. muenchen.de and M-net act as sponsors.
This is a carousel with rotating cards. Use the previous and next buttons to navigate, and Enter to activate cards.