Over 100 years of traditional sausages
Nürnberger Bratwurst Glöckl
In the middle of Munich and right beside the Cathedral, the Church of Our Lady, there is one of the city's most original and traditional public houses: the Nuremberg Bratwurst Glöckl.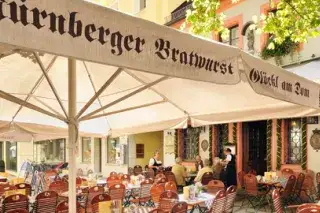 This comfortable Nuremberg Bratwurst Glöckl opened more than 125 years ago in premises that were first mentioned in a document as early as 1390 and is thus older than the Cathedral itself. The two Glöckl landlords, Jürgen Morawek and Bernd Mencner, placed an unusual speciality at the top of the menu: the grilled sausages that were freshly prepared every day by the restaurant's own butcher and grilled over an open beech wood fire.
A wonderfully tasty experience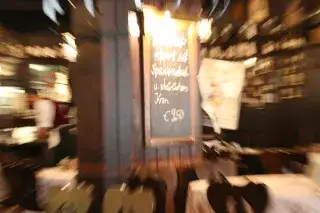 Together with Augustiner beer, cooled by bars of ice and tapped fresh from the barrel, the grilled sausages produce a wonderfully tasty experience. They are served with sauerkraut and fresh horseradish in keeping with tradition.
In addition to this Nuremberg speciality and other sausage delicacies, in the Glöckl there is a large selection of other typically Bavarian dishes: from the oven-fresh Munich Leberkäse – a kind of meat loaf – and the classic roast pork to sweet apple flan with cinnamon and vanilla ice-cream.
An ambience for every occasion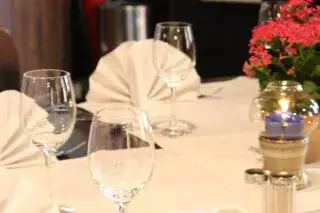 In the rustically furnished Glöckl rooms there is ample space for a leisurely family party or a relaxed business meal. The comfortable Dürer Room is large enough for 35 guests and the cosy terrace room for 22. The spacious Grützner Room can be booked for larger events. Here altogether 115 guests can meet in a comfortable atmosphere. If required, the room can be divided into two parts for 55 and 60 guests.
The charm of the Nuremberg Bratwurst Glöckl at the Cathedral in the middle of the historical centre of the town offers an ambience for every occasion completely in the tradition of Bavarian restaurant culture.
Contact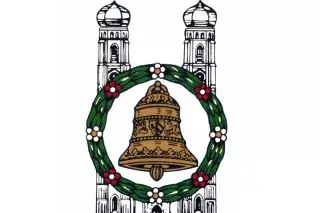 Nürnberger Bratwurst Glöckl am Dom
Frauenplatz 9
80331 Munich
Phone: 0049/89/2919450
www.bratwurst-gloeckl.de
For further information contact by email
Opening hours
Daily from 10 am to 1 am (on sunday/ public holiday to 11 pm)