Bavarian food, freshly tapped beer and Bavarian coziness
The Löwenbräukeller: Beer garden and traditional restaurant at Stiglmaierplatz
The Löwenbräukeller at Stiglmaierplatz is not only one of Munich's most popular beer gardens, but also a traditional restaurant and a great place for those who want to relax. Visitors can enjoy freshly brewed Löwenbräu beer.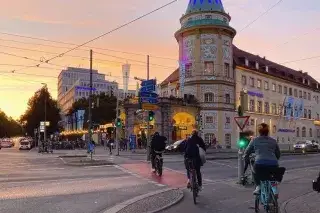 A pub with beer garden for any occasion
For decades,  the Löwenbräukeller in Munich's Maxvorstadt district has been popular with locals and tourists alike, as a place traditionally booked for all kinds of events. Right from when the building was opened in 1883, there has been a lof celebrations going on at the Löwenbräukeller. And there is still a lot going on to this day.
The venue for events is usually at the magnificent banqueting hall, which seats at least 2000 guests. Those who like something smaller or more private can move into one of the small halls and guestrooms. For example, the Benno Hall, the Filser Lounge or the tap room accommodates a small number of people.
The Löwenbräukeller beer garden
For over 130 years, the beer garden of the Löwenbräukeller has been one of the most popular in the city. With the old chestnut trees offering a lot of shade during hot summers, you can call it an oasis in the heart of Munich. Do you want to quench your thirst with a glass of freshly brewed Löwenbräu, a Radler (beer mixed with lemon-flavored soda) or an apple spritzer? This is the ideal place to be at. The beer garden is a really traditional beer garden and allows you bring in your own meal - according to a decree from 1812.
However, the beer garden also offers numerous delicacies to the guests. You will find tasty ribs, smoked steaks and burgers at the large barbecue stand. There is also the homemade Flammkuchen (traditional pizzas), Obatzda (a Bavarian cheese delicacy), Hendl (a crispy roasted chicken) and other delicacies you should try.
How to get to Löwenbräukeller
The Löwenbräukeller beer garden and restaurant is located at Nymphenburger Straße 2 and is easily reachable through public transport. The U-Bahn station Stiglmaierplatz (U1) is just across the road, and there also is a tram stop only a few metres away.