Paulaner am Nockherberg: Home to the traditional Starkbierfest
Paulaner am Nockherberg: Traditional restaurant and beer garden
The Paulaner am Nockherberg is the flagship restaurant of the traditional Paulaner brewery and is located on high ground to the east of the river Isar in the district Au-Haidhausen. It is a popular meeting place for Munich locals, who flock the attractive beer garden and visit the cozy pub and restaurant or events such as the traditional Strong Beer Festival (Starkbierfest).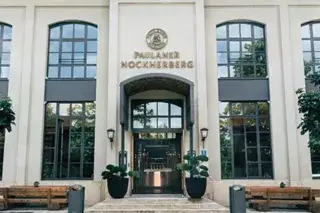 Restaurant with inhouse-brewery
The Paulaner Nockherberg offers authentic Bavarian art of cooking and brewing in a pleasantly bright and friendly ambiance. Since the renovation in 2018 tradition is combined with wooden elements and a modern industrial look. The new hosts, Oktoberfest host Christian Schottenhamel and passionate restaurateur Florian Lechner, both focus on authentic high quality products. The menu offers new Bavarian cuisine as well as regional classics. The heart of the restaurant is a brand new inhouse-brewery with two impressive copper kettles that produce up to 540 hectoliters of beer. Guests can taste beer specialties and experience the art of beer brewing up close.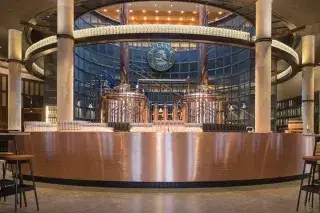 One of Munich's most beautiful beer gardens
The traditional beer garden with its chestnut trees and the famous fountain featured in several TV commercials offers more than 2,000 seats. The area is divided into two sections, the serviced garden and the big traditional self-service beer garden. The readers of a popular regional newspaper voted several times for the Paulaner Nockherberg to be Munich's most beautiful beer garden.
Getting there is easy. You can take a bus or a streetcar, either to "Mariahilfplatz" (lines 18, 52) or "Ostfriedhof" (lines 15/25, 18, 58, 68, X30, 148). From there it's only a short stroll to the beer garden. If you prefer the U-Bahn, you can get out at "Kolumbusplatz" (U1, U2, U7) or "Silberhornstraße" (U2, U7) and take a slightly longer walk.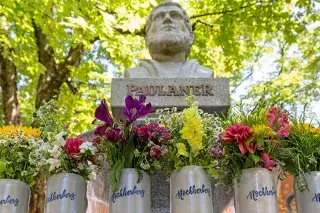 Top event location and a popular festival with long tradition
Extraordinary and cozy guest rooms in all sizes offer the perfect surrounding for events of any kind, from family celebration to corporate events. In the huge ballroom major events like the original Strong Beer Festival or the championship celebrations of FC Bayern Munich take place.
The annual highlight is the Strong Beer Festival in the Paulaner Nockherberg. The strong beer season is a part of Munich like beer gardens and the Oktoberfest. Monks invented the strong beer at the Nockherberg and the Paulaner Nockherberg is the original venue for Munich's strong beer festival! Here you can enjoy the Paulaner Salvator, a tasty strong beer with 7.9 % alcohol, Bavarian specialties and the festive atmosphere with the Oktoberfest band "Die Kirchdorfer".