Going out for Bavarian food: Eateries in Munich with modern dishes
Bavarian cuisine interpreted in a modern way: Special Munich Restaurants
Going out for a Bavarian food? Then, expect to have some dumplings, pork knuckles, roast pork and more. That's not all, as there are different ways of making the famous white and blue cuisine - young, fresh and wild - just how you'll like it! We'd like to share some of them with you here.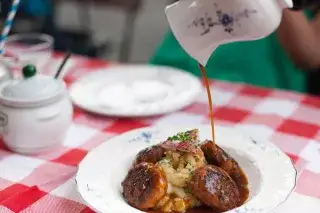 Bapas: Bavarian tapas in Schwabing
Reiberdatschi (potato pancake), meatballs, Kasspatzn (cheese noodle dish): In Bapas (Leopoldstraße 56a), you can eat it all in one dinner; the delicacies are served as tapas. An organic beer tastes great with the the 'Kaspressknödel' (cheese dumplings) on lentils and served in a glass for red wine, which allows the flavours to develop better. It is best to dine in the rabbit hutches: boxes made of wood, which have fresh hops creeping down from them. The oval sound catchers under the ceiling are inspired by the pebbles on the Isar.
How to get there: U-Bahn U3/U6 either to Giselastraße or Münchner Freiheit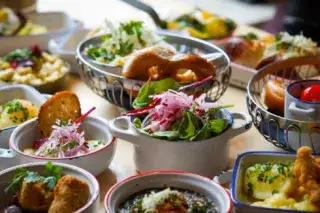 Wuid Barwirtschaft: Food from the wild with gin in Untergiesing
The buffalo head in the corner and cowhide on the bench make it feel like you're sitting in a stylish alpine chalet. Instead of cheese fondue, however, you eat things like meat patties, duck breast, and Bavarian burgers with heavenly-tender meat at the Wuid Barwirtschaft (Humboldtstraße 20). Followed by a Kaiserschmarrn with apple compote - and the gin tasting can begin!
How to get there: U-Bahn U1/U2 to Kolumbusplatz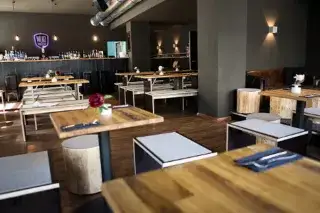 Giesinger Garten: Schnitzel in Munich style and more
At Giesinger Garten (Gerhardstraße 4), Bavarian classics and international dishes with a Bavarian touch are on the menu. A crowd favourite is the Bavarian burger with Bavaria blue cheese and bacon. As big as it is tasty: the Munich Schnitzel. Quench your thirst with a Giesinger Spritz or a Munich Mule. The restaurant is particularly popular at the weekend: but then it isn't just those living in the neighbourhood who breakfast in this rustic, cosy inn with herringbone parquet floor and historical photographs on the wall.
How to get there: U-Bahn U1 to Candidplatz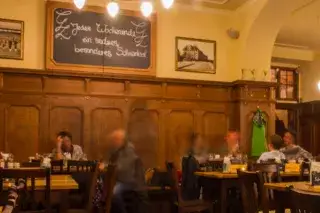 Servus Heidi: A modern bavarian pub
From fried chicken with potato salad to meat patties and a crisply made duck, the lover of Alpine cuisine will find everything his stomach desires at Servus Heidi (Landsberger Straße 73). Vegetarians choose the dumpling trio of spinach, beet and pumpkin. Wood-paneled walls and lamps made from old beer barrels make for a cozy atmosphere. In addition to Augustiner beer, there are also colorful cocktails to drink.
How to get there: All S-Bahn lines to Donnersberger Brücke or tram lines 19/20 to Trappentreustraße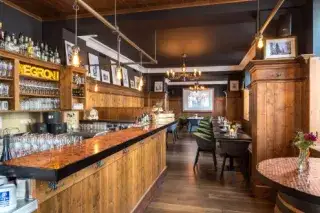 Text: Alexandra Lattek
Photos: Lionman, Giesinger Garten, Bapas, Wuid Barwirtschaft, Servus Heidi, Photopraline