From Solln to Hadern: beer gardens not everyone knows
Special beer gardens in Munich
They are a little hidden, often smaller and usually quieter than famous beer gardens. You will not find them in every travel guide. Here are 6 secret beer gardens in Munich to try out and pass on!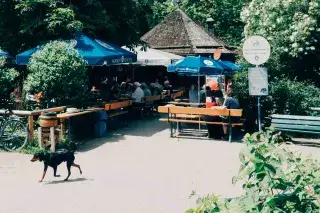 The new one: Zum Sollner Hirschen
Zum Sollner Hirschen (near the Solln S-Bahn station) has been in existence for only a few years and has a capacity of 200 seats. It is part of the inn of the same name and is idyllically situated under chestnut trees (behind the serviced outdoor area). In addition to typical beer garden menu, delicious grilled specialities like spare ribs, burgers, pork sausages or steaks are served heere. On Sundays, there's freshly roasted pork. The jugs are filled with fine Löwenbräu beer. There is a fenced playground with trampoline for kids. There is always something for anyone visiting.
Sollner Str. 43, 81479 München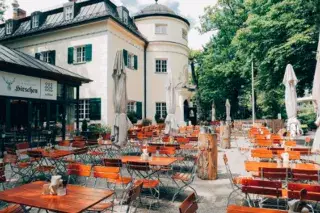 For families: Forsthaus Kasten
The ideal beer garden for families is the Forsthaus Kasten - between Neuried and Gauting. You can either get there by car or bike through the beautiful Forst Kasten. There is a free adventure playground and many inexpensive attractions such as bouncy castles, miniature golf or pony rides for kids. After the fun, you can enjoy a homemade strawberry-rhubarb or dandelion-orange spritzer. Adults can enjoy a Prosecco-Sprizz or chilled bottle of beer. There is also something in the menu for vegetarians. For example, vegetable pan, creamed mushrooms or cheese noodles. By the way, you are also doing something good with every visit. Ten percent of the bar's proceeds go to the Heilgeistspital-Stiftung.
Between Neuried and Gauting, 82131 Gauting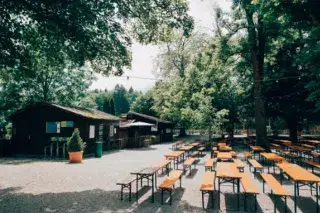 Dogs allowed: Mini-Hofbräuhaus
Unofficially, the Mini-Hofbräuhaus is known as the "dog beer garden". Dogs are welcome in most Munich beer gardens but the Mini-HB is probably the most dog-friendly. It is located in the middle of the English Garden, just a short walk from the Nordfriedhof underground station. The dogs can either play or just lay comfortably under the table as their owners chat in peace. On the menu is the real treat - "Ofenfrische Schweinsbrat'n mit Kned'l und Salod" (oven-fresh pork roast with dumpling and salad). Have that with a large beer. It tastes really good with it.
Gyßlingstraße, 80805 München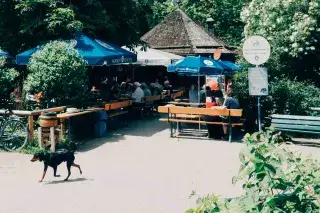 Rock 'n' Barbecue: Backstage night beer garden
Every beer garden is a bit different from others. The Backstage night beer garden at the S-Bahn station Hirschgarten is probably a little more unique. You can bring and prepare your own meat or vegetables for a barbecue under the "License To Grill" (coal and lighters are available on site). There are other things that are not typical for a beer garden - like lounge furniture and deck chairs, freshly mixed cocktails, lots of plants and colourful lighting at night. You also enjoy extra entertainment with beer pong, table soccer and games.
Reitknechtstraße 6, 80639 München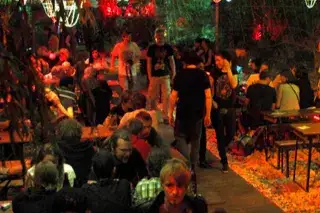 Almost a classic: Waldheim
With about 2,500 seats, the Waldheim in Hadern is quite a large and popular beer garden. It is on this list becauase it is harldy crowded and you can always get a seat. This may be due to its secluded location, although it is only a few minutes' walk from the underground station at Klinikum Großhadern. For those who are hungry, there are regular meals and tasty burgers like Waldheim Cheeseburger with chips. There is also "Flotte Bayerin" (a veggie burger with spicy cheese and chips() and of course beer and other refreshments on the menu.
Waldheim 1, 81377 München
It couldn't be more idyllic: Insel Mühle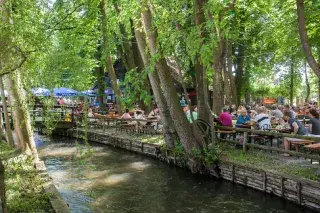 There is a really beautiful beer garden located near the Untermenzing S-Bahn station near river Würm. At Schmankerl-Eck, the river splashes quietly as the sun's rays break through the trees and little birds chirp - wonderful, right? So you don't have to always go to the Isar river to relax. One of the highlights on their menu is the fresh Steckerlfisch (a special grilled fish dish). For those who don't have an appetite for fish, there are beer garden classics and snacks such as Munich sausage salad. The menu changes weekly with more varieties to choose from.
Von-Kahr-Straße 87, 80999 München



 
Text: Steffi Mayerhanser
Fotos: Lukas Schirmer, Backstage, Waldheim, Inselmühle