Traditional munich company for everything about the bed
Bettenrid
The renowned Munich company was founded in 1916 and looks back on a long and proud tradition. It all began with a small specialty store for beds on Theresienstrasse in the Schwabing quarter. Today Bettenrid GmbH comprises two major outlets in Munich. Various living areas over four floors – 1400 m² in total – offer an inspiring selection o bedding, living and bathroom design ideas to meet the needs of every customer and create a feeling of genuine comfort in stylish surroundings.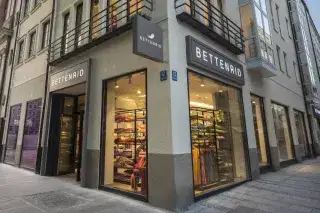 The Customer is king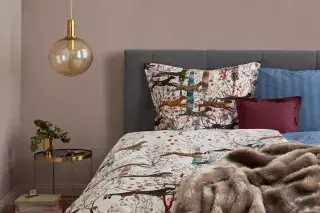 The staff in every Bettenrid location provides comprehensive and competent advice. The stores offer a wide range of services and custom-made products such as round fitted sheets, bath mats made to measure and cushions in all shapes and varieties. Here the customer is still king, when, for example a bed by the Schramm brand is assembled individually according to the client's wishes in the department for upholstered  beds. The product range includes a great variety of covers that are also available in larger sizes as well as bed linens in up-to-date designs.
Special service offer for foreign visitors
Buy at the charming outlet and get your purchase shipped to your country.
You are on vacation in Munich and you would like to choose some special goods for your cosy home or for your family and friends? Bettenrid offers to send your purchases to your country and will take care of customs matters. For more information please contact the customer service.
Shopping around the clock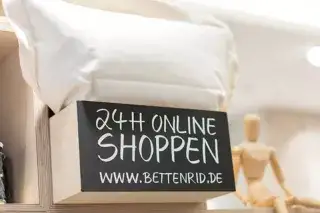 The Bettenrid online shop at www.bettenrid.de permits shopping around the clock. You can make purchases conveniently from all over the world. Bettenrid offers worldwide delivery. Information about delivery can be found here (in German).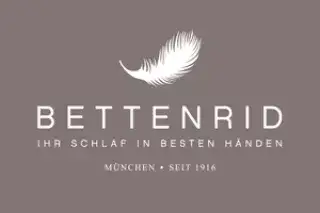 Would you like to make an appointment at one of our Bettenrid stores? Bettenrid allows you to quickly and easily book a consultation session online. Select from a wide range of consultation services: www.bettenrid.de/Beratungstermin-vereinbaren
Sites Bettenrid GmbH                                     Phone: +49 (0) 89/21101-0
 
Theatinerstraße 47
80333 München

 Opening times: Mo-Sa 10 am – 7 pm
Neuhauser Straße 12
80331 München

 Opening times: Mo-Sa 10 am – 7 pm
Hästens Store München
Theatinerstraße 47
80333 München

Opening times: Mo-Sa 10 am – 7 pm