A glass-roofed shopping arcade with a historical background
Kaufingertor
Between the two large fronts of houses the Kaufingertor opens up to the pedestrian in the Kaufinger Straße. A beam of blue light that passes through the neighbouring building directs your gaze inwards and leads the visitors into the passage with shops for fashion, delicatessen and much more.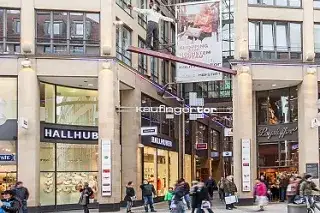 "Urban Horizon" is the name of the artistic light-line, which symbolises the abstraction of a sunset. The installation was created by the Deseo Design Agency. This stylish aesthetic concept also opens up in front of the visitors in the roughly 70-metre-long passageway. Delicatessen shops with tempting titbits encourage you to purchase some of the delicacies. Fashion and shoe shops are also represented by branches. And finally you find a another highlight in a goldsmith's studio where individual pieces of jewellery are produced.
Historic place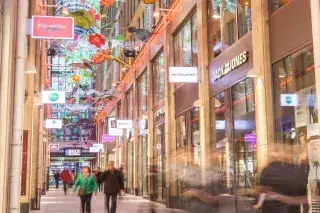 The Kaufingertor has its roots in the early beginnings of Munich's history, which stretches back over 800 years: where the passage is located today there once stood a town gate at the time of the first town wall. In the meantime it is only the name that recalls the long history of this spot. Modern, clear architecture and the "man with outstretched arms" invite you to go on a tasteful shopping spree. The figure balances above the entrance to the passageway and by means of unusual light effects casts a captivating play of shadows onto the pedestrians.
Pleasant atmosphere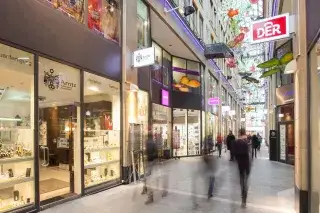 The arcade-shaped glass roofing and the interesting shopping opportunities turn out to be an experience. The customers find attractive shops in the hustle and bustle of the popular shopping streets – with the pleasant atmosphere of a modern shopping passage. And so the short stroll closes the circle: an individual gem in the heart of the city.
Contact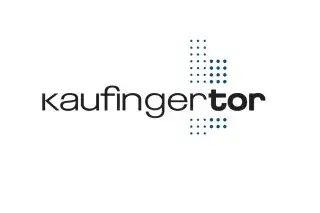 Kaufingertor
Kaufingerst. 9
80331 Munich
For further information contact by email
Opening hours
Mo-Fr: 10-20h