Traditional fashion outfitter
Moser Trachten
With 5 stores located in and around Munich, Moser Trachten is Bavaria's greatest traditional fashion outfitter. They offer a vast selection of top-class traditional attire and accessories directly from the manufacturers and from 100 leading brands.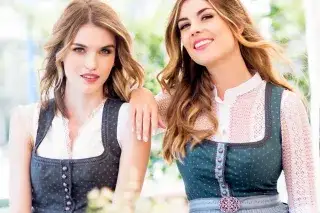 Spectacular Dirndl Dresses for Every Occasion
The enormous selection of more than 600 different models of Moser dirndl dresses is a feast for the eyes and makes the heart of every woman skip a beat. From traditional to stylish, from funfair outfit or wedding dress to a festive combination for a family celebration, Moser thrills young, smart maidens as well as tradition-conscious ladies of sophistication. For this purpose, a team of in-house designers creates exclusive collections in strictly limited quantities. Fabrics, buttons and trimmings specially designed for Moser are handcrafted. This dedication results in a wide variety of unique attire which maintains tradition and is complemented by renowned brands such as Wenger, Krüger, Hammerschmid, Spieth & Wensky, Giesswein and Countryline. Highlights of the selection are hip designer labels such as "Alpenherz",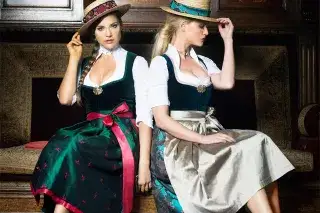 Leather Trousers in Abundance
Lovers of traditional fashion will also encounter an unparalleled selection of leather trousers - more than one hundred different styles. The materials range from simple wild buck and finest goatskin to rare chamois tanned deerskin. Whether sumptuously embroidered or styled in the hip antique fashion, the models are extremely casual and, to top it all off, absolutely unique. To match the trousers of his choice, the gentleman can choose a vest from 120 different models in his favorite color and made from fabrics such as loden, velveteen or linen. At Moser's, everybody will find the suitable traditional costume for everyday use as well as for the Oktoberfest - at an affordable price. With the popular five-piece set starting at € 189, Moser Trachten offers a complete traditional outfit for beginners including trousers, shirt and Haferl shoes.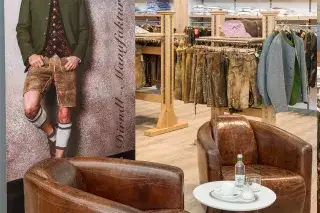 High-Quality Service, Expert Consultation and Best Price Guarantee*
It goes without saying that competent and friendly consultation, a wide selection and generous exchange policy, in-house tailoring and alteration as well as free parking right in front of the entrance (at all locations except at Altheimer Eck) await you at Moser Trachten. Individual outfitting and service for clubs, caterers, musicians and more are provided at a good rate, even for smaller quantities. In-house production without the expense of middle men, wholesale purchasing from the best producers in the industry, proprietary in-shop fitting, and dispensing with costly sponsoring present only a few reasons why Moser offers top traditional attire at affordable prices. The advantages are passed on directly to the customer by means of Moser's best price guarantee *.
* Moser's best price guarantee: In case the customer finds an item purchased at Moser's at a lower price elsewhere within two weeks, the difference will be reimbursed.
Additional information is available at: www.trachten.de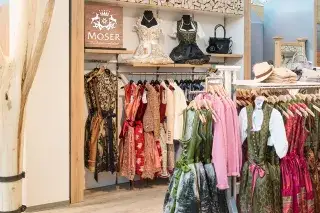 Contact
MOSER Trachten GmbH
Opening hours:
Monday to Friday: 10.00 am - 7.00 pm
Saturday: 10.00 am - 6.00 pm
Special opening hours for August and September - Monday to Saturday: 9.30 am to 8.00 pm.
Shops
Moser Trachtenwelt München
Taunusstraße 51, 80807 München
Telefon +49 89 35 99 35 0
Telefax +49 89 35 65 26 90
Moser Trachten München
Kistlerhofstraße 243a, 81379 München
Telefon +49 89 72 49 88 15
Telefax +49 89 74 89 99 41
Moser Trachten Feldkirchen
Hohenlindner Straße 48, 85622 Feldkirchen
Telefon +49 89 907 738 50
Telefax +49 89 907 738 52
Moser Trachtenwelt Neubiberg
Arastraße 2, 85579 Neubiberg
Telefon +49 89 660 85 672
Telefax +49 89 660 85 673
Moser Trachtenwelt Gräfelfing
Am Haag 8, 82166 Gräfelfing
Telefon +49 89 85 83 76 77
Telefax +49 89 85 83 76 78
Moser Trachtenwelt Trudering-Riem
Wasserburger Landstraße 234, 81827 München
Telefon +49 89 453 44 462
Telefax +49 89 453 44 665
MOSER Trachtenwelt Dachau
Alte Römerstraße 35, 85221 Dachau
Telefon +49 8131 356 90 77
MOSER Trachtenwelt Erding
Johann-Auer-Straße 2-4, 85435 Erding
Telefon +49 8122 955 64 92
Telefax +49 8122 955 64 94
MOSER Trachtenoutlet Erding
Franz-Brombach-Straße 11, 85435 Erding
Telefon +49 8122 9556495