The Schuster sports shop in Munich offers clothing and equipment
Sporthaus Schuster: sports wears, gadgets and more in Munich city center
The Schuster sports store is known in Munich for its competence and authenticity far beyond the borders of the city. The shop has a long tradition for selling great wears and has always been defined by its staff who are sports enthusiasts themselves.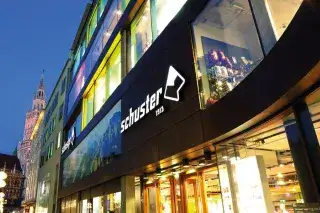 Climbing wall: from the valley to the top of the mountain
In 1913, the mountain sports pioneer August Schuster founded the family company on Rosenstrasse at Marienplatz square. Today the store offers a wide selection of well-known brands like Schöffel, The North Face, Mammut and many more.
For visitors, shopping in this store which spans 5,000 square meters is a genuine sports experience. Summiteers can maneuver a 25-meter high climbing-wall. Those who want to take it a little slowly can leisurely explore the mountain architecture over seven floors. The Sports Schuster store is built in the image of a real mountain with a valley at the bottom and a peak for the highest level.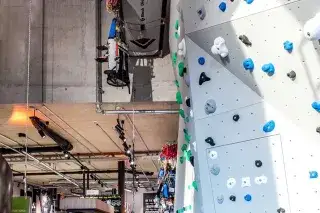 Running, Bike and Alpine sports
On the floors below, active sports enthusiasts will find equipment for running, biking and fitness. On the way up they encounter a huge selection of outdoor products. At the top floor there is everything required for climbing and alpine sports. Here visitors also find a service counter of the DAV (German Alpine Association - Munich Section), where club members can benefit from all services provided by DAV (booking of tours and rental equipment as well as utilization of a comprehensive lending library of guides and maps).
In a unique way the Schuster sports store presents a sports experience from the Isar River to the summits of the Alps - living up to its name "sports house of the South".
Come and take a look around Sport Schuster, the traditional Munich sports store.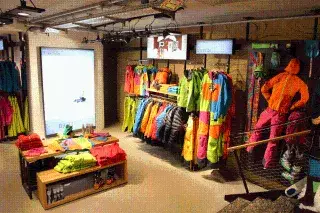 Sporthaus Schuster: Contact, directions and opening hours
Sporthaus Schuster
Rosenstr. 1-5
80331 Munich
Phone: 0049/89/237070
www.sport-schuster.de
Opening hours
Mo-Sa: 10-20h