All info about the statue and the popular viewing platform
Angel of Peace (Friedensengel): Viewpoint and peace monument in Munich
In Munich, the 38-meter-high Friedensengel keeps watch over the city. The monument with its terrace in the Maximiliansanlagen is a popular vantage point.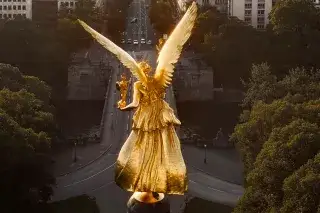 Rainer Viertlböck
The Angel of Peace at a glance
The peace monument is located within the Maximiliansanlagen, a park in the Bogenhausen district at the eastern end of Prinzregentenstraße.
The golden statue - the actual Angel of Peace - is a replica of the Nike of Paionios, a synonym for a military victory. With the column and the figure the monument is altogether 38 meters high
The whole complex is a monument to the 25 years of peace after the Franco-Prussian War of 1870/71 and was inaugurated in 1899.
Around the fountain in the summer the Friedensengel Festival takes place for several days.
What you can see from the panoramic terrace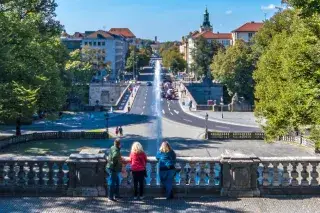 At the Friedensengel, you can enjoy two views at once: on the one hand, the city at your feet, and on the other, the beauty of the statue in gold above you.
From the Prinzregent-Luitpold-Terrasse you have a great view over the Prinzregentenstraße with its magnificent buildings like the Haus der Kunst or the Bavarian National Museum to the Prinz Carl Palais.
This view is worthwhile all year round. Especially in the evening hours in summer, it offers romantic moments when the fountain below is atmospherically illuminated at night.
The magnificence of the Angel of Peace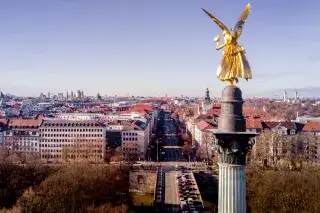 The six meter high goddess of victory holds in her right hand an olive branch as a symbol for peace and in her left hand the Palladion, an image of the goddess Athena, who stands for battle and wisdom.
The temple below depicts on its corner pillars portraits of emperors, chancellors and generals such as Emperor Wilhelm I or King Ludwig II.
In the hall, four gold mosaics depicting war, victory, peace and the blessing of culture point in every direction. Two steps lead down to the fountain on the left and right of the viewing terrace, with a water fountain in the middle, framed by four putti riding dolphins.
History of the Angel of Peace: Inauguration of the monument 1899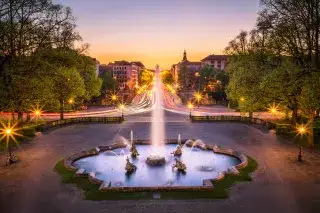 The foundation stone for the Angel of Peace was laid on 10 May 1896. The bronze statue was created by the three sculptors Heinrich Düll, Georg Pezold and Max Heilmaier and the bronze casting by Ferdinand von Miller. The monument was inaugurated on 16 July 1899.
Since the gilded figure threatened to fall decades later, it was removed in 1981. This resulted in severe damage, so that the goddess of victory could only turn her attention to Munich again in 1983. The two wings and the supporting leg had been renewed for this purpose. Since then the wings of the angel rise steeper into the sky.
For the centenary in 1999, all parts of the monument were cleaned, repaired and the angel wrapped in a new gold leaf dress.
Angel of Peace (Friedensengel): Viewpoint and peace monument in Munich
Europaplatz 1
81675 München