The Amerikahaus at Karolinenplatz: Infos and tips
The Amerikahaus - Center of Culture
The Amerikahaus at Karolinenplatz is an open house for everyone and is dedicated to transatlantic dialogue. Here's all you need to know.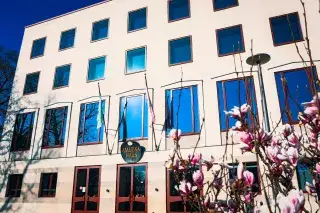 Amerikahaus München, Fotograf Leonhard Simon
At a glance: What does the Amerikahaus offer visitors?
The Amerikahaus is open to all. You can always stop by and:
use the library, which offers you access to North American online databases
admire the regular exhibitions in the foyer
participate in the numerous events and discussions
get information about a stay abroad in the USA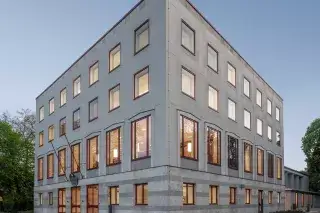 Location: Directly on Karolinenplatz
Museum category: Culture
Recommended length of stay: Approx. 30 to 60 minutes
Directions : Tram 27 and 28 to Karolinenplatz, U2 to Königsplatz or S-Bahn to Karlsplatz (Stachus).
Parking : Parking is available at Karolinenplatz
Amerikahaus Munich: What's new after the renovation?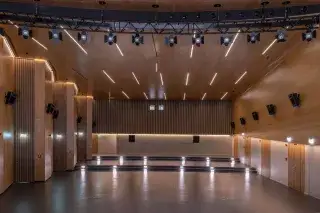 Since 2016, the Amerikahaus underwent extensive renovation. The interior, especially, has changed a lot. The former theater hall is now a highly modern multifunctional hall, which can also be used for concerts and cinema screenings.
On the first floor, there is now the Karolinensaal with a fantastic view of the Karolinenplatz - as the name suggests.
What's the history behind the house?
The Amerikahaus was founded after the Second World War in 1946 - at that time with the aim of promoting the democratization of the German society after the Nazi dictatorship. In 1957, it moved to its premises at Karolinenplatz. The institution's current focus is on promoting transatlantic relations.
The Amerikahaus
Karolinenplatz 3
80333 München

Tel: +49895525370
Fax: +498955253737

This is a carousel with rotating cards. Use the previous and next buttons to navigate, and Enter to activate cards.