Tierpark Hellabrunn: info about animals, tickets and attractions
Munich's Hellabrunn Zoo: What visitors can experience
Come to Hellabrunn Zoo in Munich and discover a unique conservation area on the banks of the Isar river. The zoo is home to more than 750 exotic and native species from all continents.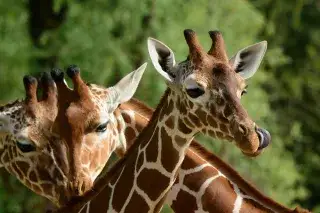 Tierpark Hellabrunn / Marisa Segadelli
Hellabrunn Zoo: The most important information at a glance
Location: In the Isarauen landscape conservation area in the south of Munich not far from the Thalkirchner Bridge across the river Isar
Size: 40 hectares
Special feature: Over 750 animal species live in the world's first geozoo
History: Founding of the zoo in 1911; Geozoo concept since 1928
Opening times: Hellabrunn Zoo is open all year long. Opening times vary according to season: From 01/04/ - 31/10/: 9 am - 6 pm ; starting 01/11: 9 am - 5 pm
Admission fees: See here for details
How to get there: U-Bahn (subway) line U3 to Thalkirchen - from here, you can reach the main entrance in just a few minutes walk. Bus line 52 will take you to Alemannenstraße (Tierpark Hellabrunn), from where you can easily reach the second zoo entrance.
Geo zoo concept: Discover the animal world of the continents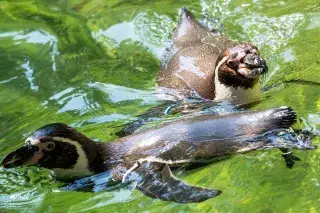 As the first geo zoo in the world, the Hellabrunn Zoo lets you discover the animal world arranged by continent. In completely natural communities, several species often inhabit common spacious enclosures. Discover the animals of all continents in these geo zones:
Since 2013, the 10,000 m² African giraffe savannah directly at the Isar entrance has been the showpiece of the African animal world at Hellabrunn. Here you will discover giraffes, meerkats and porcupines. But the diversity of life in Africa is also omnipresent, from antelopes and lions to chimpanzees and gorillas.
The animals of the Americas
The double continent stretches across almost all of the world's ecozones. The animal species at Hellabrunn Zoo are correspondingly diverse, including mighty wood bison, llamas, cute capybaras or maned seals and Humboldt penguins.
Whether giant Asian elephants - including young animal Otto - majestic Siberian tigers, the surprisingly human orangutans or respect-inspiring pythons: Asia's animal world is as fascinating as it is diverse.
Fascinating animal species such as red giant kangaroos, emus or wallabies can be seen here, as well as animals of Australian origin that are now domesticated in Europe, such as the budgerigar.
Whether house mouse, wolf, elk or alpine ibex - Europe's animals are true survival artists in view of the seasonal temperature differences and drought in the south. Discover the European animal world at Hellabrunn Zoo as you have never seen it before!
The animals of the polar world
Extreme cold formed a sensitive ecosystem at the North and South Poles. Discover polar bears, penguins, seals, arctic foxes or snowy owls, among others, at Hellabrunn Zoo.
Guided tours, feedings and more at Hellabrunn Zoo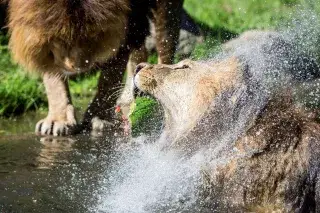 Exploring Hellabrunn Zoo on your own is already a voyage of discovery in itself. However, the public guided tours for individual visitors or groups offer even more fascinating insights into the animal world. These are possible by day and night. Information and reservations are available by phone or e-mail.
A highlight of any visit to Hellabrunn Zoo are the feedings and keeper meet-and-greets. Here, tigers, elephants, polar bears & Co. show their fascinating skills while the animal keepers tell interesting facts about the animals.
The Hellabrunn Zoo is a delight for all those who are enthusiastic about a particular animal. Whether it's a giant tortoise or a llama - if you've been dreaming of getting up close and personal with one of them since childhood, you can fulfill that dream with a private meeting with your favorite animal. These meetings have to be booked in advance and cost up to 99€ for up to four persons.
History of Munich's Hellabrunn Zoo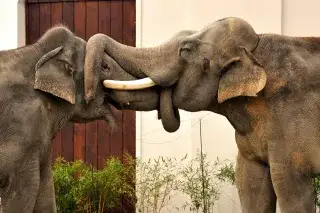 In 1905, the association "Zoologischer Garten München e.V." was founded. Its goal: a new zoo in Munich. On August 1, 1911, it succeeded with the opening of the Hellabrunn Zoo. Just three years later, the pachyderm house was opened, which still stands in the same place today as the elephant house - most recently renovated in 2016.
After the zoo was closed from 1922 to 1928 due to lack of funds, it reopened its doors on May 23, 1928 as the first geo zoo in the world.
After air raids, the zoo had to close in 1944 and 1945 before reopening immediately after the end of the war.
A donation of millions from Helmut Horten made new facilities possible in 1960. Since then, the zoo has been constantly modernized and expanded.
Most recently, the new "Hellabrunn Mill Village" (Mühlendorf) in the style of a traditional Bavarian farmhouse with typical animals was opened. It also features a Zoo School which was completed in summer 2019. Here, schoolchildren can gain experience with biodiversity of the European animal world.
Looking for more information?
Munich's Hellabrunn Zoo: What visitors can experience
Tierparkstr. 30
81543 München

Tel: +4989625080
Fax: +49896250832

This is a carousel with rotating cards. Use the previous and next buttons to navigate, and Enter to activate cards.