Sightseeing and meeting point: The Feldherrnhalle at Odeonsplatz
Feldherrnhalle Munich: All about the landmark at Odeonsplatz
The Feldherrnhalle (Field Marshals' Hall), located at the Odeonplatz, is a must-visit! See more on its history here!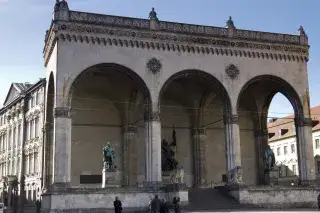 Katy Spichal
What makes the Feldherrnhalle so special
The Feldherrnhalle is located at the southern end of Odeonsplatz, between Theatinerstraße and Residenzstraße. The monumental hall was built between 1841 and 1844 by the famous architect Friedrich von Gärtner, commissioned by King Ludwig I.. It is one of Munich's top sights for several reasons:
Eye-catching: the Feldherrnhalle is located as a "point de vue" at the very beginning of Ludwigstrasse - from here you can see all the way to the Siegestor (Victory Gate)
Southern flair: It is inspired by Italian models, specifically the Loggia dei Lanzi in Florence
Statues: Two mighty stone lions watch over the monuments to the generals Count Tilly and Prince von Wrede, as well as the Bavarian army memorial
Cultural site: In summer, top international stars perform in front of the picturesque backdrop of the Feldherrnhalle at "Klassik am Odeonsplatz".
Steeped in history: a memorial plaque opposite the Feldherrnhalle today commemorates the Bavarian police officers killed during the Hitler putsch in 1923. During the Third Reich, the National Socialists had converted the Feldherrnhalle into a memorial for those killed in the putsch. The "Drückebergergasse" at the back of the Feldherrnhalle is also a place steeped in history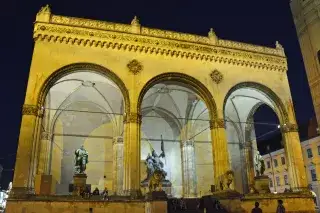 General renovation of the Feldherrnhalle
The Feldherrnhalle is expected to undergo extensive renovation starting in 2022. Among other things, the colors and plaster will be refreshed and the stone lions will also be restored. The work is scheduled to be completed by 2025.
Living history: "shirkers' alley" behind the Feldherrnhalle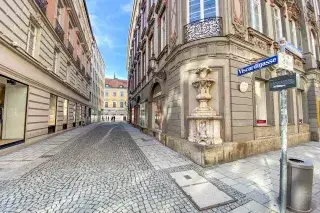 During the Nazi period, there was a memorial plaque on the east side of the Feldherrnhalle commemorating the 16 insurgents killed in the Hitler putsch on November 9, 1923. Passers-by had to pay their respects to it by giving a Hitler salute.
But some Munich residents were smarter: they used the Viscardigasse behind the Feldherrnhalle as a detour to get to Odeonsplatz without giving the Hitler salute. This earned the little passage the name "Drückebergergasserl" (shirkers' alley). Today, golden paving stones in Viscardigasse commemorate this silent protest. A small bronze plaque was placed at the Residenz in memory of the four policemen who died in the Nazi coup attempt.