Fröttmaning hill: From garbage mountain to vantage point
Fröttmaning hill: Great view of Munich and the Alps
The Fröttmaning hill (Fröttmaninger Berg) is an insider tip: On the former garbage mountain you have a great view of Munich, the surrounding area and the Alps.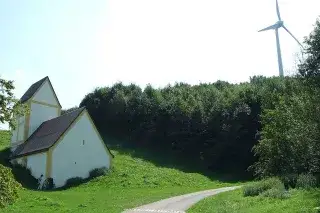 muenchen.de/Michael Hofmann
The view from the Fröttmaning hill
The climb up the 75 meter high Fröttmaninger Berg compensates with a great view over the whole city of Munich.
In addition to the view of the Munich Sykline, the Alps can also be seen on a clear day.
There has been a wind turbine on the summit since 1999. On the other side of the freeway junction, an even higher wind turbine has been erected since 2021
The art installation "Sunken Village" is a concrete copy of the Holy Cross Church
In winter, the mountain is also used as a ski slope.
The story behind the Fröttmaning hill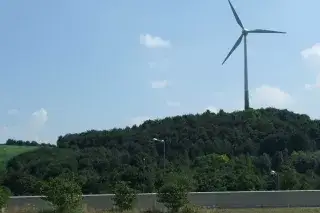 In the north of Munich, right next to the Allianz Arena, is the Fröttmaning hill, which was initially created purely as a garbage mountain. The former settlement of Fröttmaning had to gradually give way to the steadily growing landfill until 1960. Only the small church Heilig Kreuz, the oldest church in the city area, reminds of the almost forgotten place.
In the 1980s, the garbage mountain was renaturalized. Extensive construction work was necessary to prevent toxic substances from seeping into the groundwater. After its greening, the former landfill serves as a lookout point - and a wind turbine sits enthroned on its summit, as an ecological landmark on the former garbage dump.
Southern Fröttmaning Heath Nature Reserve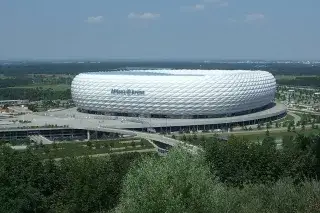 From the mountain, it's worth taking a trip to the "Südliche Fröttmaninger Heide" nature reserve. This 347-hectare part of the Fröttmaninger Heide has been accessible to visitors on paths since 2016. The heath landscape with sparse pine forests, rough grasslands and small bodies of water is over 10,000 years old and populated by rare animals and plants. At the entrance near the Fröttmaning subway station, the HeideHaus environmental station provides information about the biotope.
How to get there
Location: The Fröttmaning hill is located right next to the Allianz Arena, about 10 kilometers north of Marienplatz, directly on the A9 autobahn, in the Freimann district.
Public transportation: Take the U6 from the city center in the direction of Garching-Hochbrück to the 'Fröttmaning' stop. From there, it is about a 15-minute walk to the Allianz Arena.
Parking spaces: On non-match days, the north bus parking lot of the Allianz Arena is open; on match days, it is rather not recommended to park at the stadium unless you are attending a match. It is also possible to drive directly to the hill via Freisinger Landstraße.