Glockenspiel in the New City Hall: music and history of the attraction
Glockenspiel in Munich at Marienplatz: All you need to know
The Munich Glockenspiel in the New City Hall (Rathaus) tower at Marienplatz is world-famous. Here you can find out when to visit and what the dancing figures actually mean.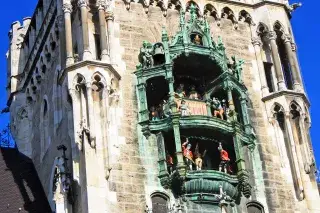 Leonie Liebich
Glockenspiel in Munich: When and where you can see it
Daily at 11am and 12 noon, the Glockenspiel starts in the tower of the New City Hall (Neues Rathaus) at Marienplatz, Munich
From March to October, it can be seen at 11 am, 12 pm and at 5 pm
Four different pieces or songs can be heard.

 

The program changes monthly
What the figures show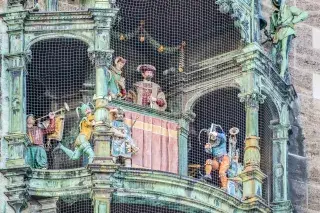 The Glockenspiel in the New Town Hall tower shows two events from Munich's city history:
First, the wedding of Duke Wilhelm V and Renate of Lorraine, celebrated in February 1568. In honor of the bride and groom, a jousting tournament took place on Marienplatz. The Bavarian knight triumphed over his opponent from Lorraine.
The lower floor shows the Schäffler dance. After a severe plague epidemic, the barrel makers are said to have been the first to venture out into the streets again, dancing to amuse the plague-stricken population.
More facts about the Glockenspiel on Marienplatz
The Glockenspiel in the New City Hall consists of a total of 43 bells.
It is powered by solar electricity.
In 2007, it was refurbished, cleaned and retuned for the first time in almost 100 years.
The Glockenspiel (a Carillon) has a program all year round which is enticing to tourists and residents. See details as follows:
January / June / November (roller 1)
Herzload
Hohenfriedberger Marsch
Schäfflertanz 1. Teil (aber heit is kalt)
Muss I denn zum Städtele hinaus
February / July (roller 2)
Ännchen von Tharau (folk song)
Finnish horse march
Schäfflertanz 2nd part
In der Heimat ist es schön
March / August (roller 3)
Loreley
Preisend mit viel schönen Reden
Schäfflertanz 1st part
Wendelstein song
April / September (roller 4)
Jetzt gang i an's Brünnele
Wohlauf Kameraden auf's Pferd, auf's Pferd
Schäfflertanz 2nd part
Die letzte Rose
May / October (roller 5)
Sah ein Knab ein Röslein steh'n
Prinz Eugen, der edle Ritter
Beer waltz
Morgen muss ich fort von hier
December / Advent (roller 6)
In einem kühlen Grunde
Thorgauer Marsch
Münchner Kind'l
Oh Tannenbaum
Daily at 9:00 p.m
Night watchman call from Richard Wagner's Meistersinger von Nürnberg
Lullaby by Johannes Brahms
Glockenspiel
Marienplatz
80331 München
Barrier-free access
Barrier-free accessibility in the building
Accessibility - further information