Learn about child care for pre-schoolers in Munich
Child Care in Munich: Information on Kindergarten, Krippe and Horte
Child care for pre-schoolers in Munich is provided in various institutions: Kindergarten, Kinderkrippe and Hort. We present the different forms of child care with their distinctive features.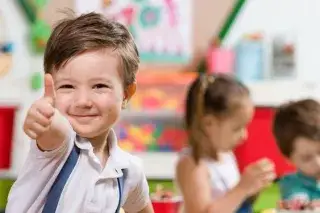 How child care is provided in Munich
Child care varies depending on the child's age, as well as the special needs of the parents and children. One of the most important institutions are kindergartens, a pre-school for children between 3 and 6 years. For younger children, there are so-called Kinderkrippen. However, kids who are already in school, but need care in the afternoons can go to an institution called "Horte".
Nursery Schools - Kindergärten
Registration at kindergartens usually takes place in spring. If the kindergarten and the parents (alongside the child) agree, the child can stay either in the morning from 8am till noon and / or in the afternoon from 2pm to 5pm. Kindergarten costs vary: state-run nursery schools cost between 70 and 120 Euro a month; private ones between 150 and 200 euros. For those parents who need all-day childcare, there are some all-day kindergartens where your child can stay from about 7am to 5pm. Though it's difficult to find a spot at these places, simply because they are few in number.
Children Under Three - Kinderkrippen
For very young children between the ages of one and three, all-day care is possible at day nurseries, called "Kinderkrippen" or "Kita" (short for "Kindertagesstätte"). However, as with all-day kindergartens, it can be difficult to find free places here. As an alternative, you might want to look for so-called "Day Mothers" (Tagesmütter). They often provide daycare in their own homes. Babysitters, who charge an hourly fee to look after children, usually advertise their services on notice boards found in supermarkets or kindergartens
Afternoon Child Care - Horte
All-day schools and nursery schools are still an exception in Germany, although that is going to change in the next few years. In the meantime, additional afternoon Childcare is offered for the children of working mums and dads by so-called "Horte". They stay open all afternoon, and social workers provide lunch, help with the homework and organise games and excursions.