No-barrier access to Munich Airport
Aeroplanes for the physically challenged
Munich Airport is accessible from many directions, most of which provide no-barrier access.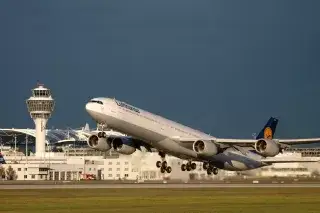 Services at Munich Airport
Public Transit:
S-Bahn: Take the S1 or S8.
Go to the Public Transit section for more information 
Lufthansa Airport Bus: The bus departs every 20 minutes / takes you to Schwabing and Central Station. However, there is no ramp. Additional Information 
Parking:
Parking for the disabled is available in multi-storey car parks and underground garages.
Lifts:
Lifts are available at every relevant access point.
Please note:
Any special facilities are identified by the international disabled logo. A tactile floor guide rail system is available in the Main Hall in Terminal 2.
Go to the airport's web site for more information
Important Flughafen München GmbH Phone Numbers
Operator 089/9 75 00
Flight Information 089/97 52 13 13 | Fax 089/97 55 79 06
Mobility Service 089-97 56 33 33
Medical Center (Open 24 hours) 089/97 56 33 44
Malteser Hilfsdienst 089/97 59 01 70
Ambulance/Paramedics 08122/1 92 22
Free Wheelchair Service
A free wheelchair service is available at any information counter, in the departure areas and at Main Information in the central area (where you will also find special transport wheelchairs for boarding). At Terminal 1, there are free wheelchairs in the Special Service Lounges that are airport property (This service refers to wheelchair rentals. It does not include any assistance. If you need assistance, please report to the airport operator or the airline you have booked your flight with).
Arrivals / Departures
Mobility Service is entirely free of charge. Any required assistance must be ordered over the phone when booking your ticket with the airline you are flying with or afterwards. The airport operator will be glad to make things easier for you by providing the airline's phone number. Assistance is then provided from check-in until you have been seated on the plane. If desired, you will also receive assistance outside the airport, i.e., you will be picked up when arriving by taxi / bus / tram or S-Bahn. This service is also free of charge.