Great ideas for bad weather in Munich
Munich in the rain: Tips for indoor activities
Munich has a lot to offer even when it rains. Our tips for indoor activities vary from museums to climbing action.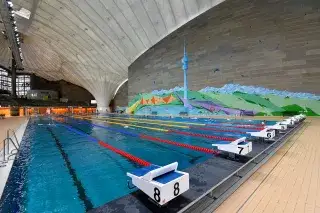 Get an energy boost at the public bath
No matter how gray it is outside - you can also exercise indoors, for example by swimming lanes in the Olympic swimming hall.
And when you've had your fill, you've definitely earned a little relaxation in the sauna. The Finnish log cabin on the open-air terrace of the Dantebad becomes even cozier when the rain is pelting down on it.
But of course, if the weather is gloomy, it's also worth visiting Schwabing's Nordbad or one of Munich's other swimming pools.
Go to the movies! Check out the cinemas in Munich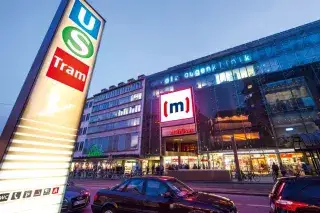 On gloomy days, a visit to Munich's cinemas is always a good idea, because with hot action or heartwarming romance, the grim weather outside is quickly forgotten. 
Munich offers a wide variety of cinemas: You can choose whether you want to see a movie in a large, ultra-modern theater like the Mathäser, or whether you prefer the coziness of a smaller theater like the Museum Lichtspielhaus.
Deutsches Museum: A technical wonderland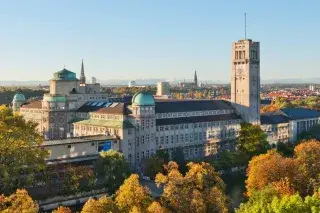 You can't go to the Deutsches Museum often enough. Although some areas are currently closed for renovation, the museum is still large enough for several hours of wandering about. For the youngest visitors, for example, the exciting Kinderreich (Children's Kingdom) awaits. 
Experience a rush of heights while climbing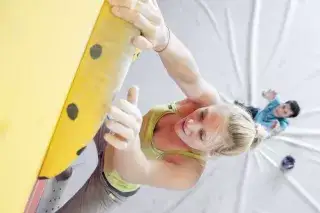 Climbing is not only possible in the mountains, but also indoors: At Munich's bouldering centers, you don't have to miss out on the thrill of heights even in bad weather. Just take a look at the DAV climbing centers in Thalkirchen or Freimann.
Visit the giant aquarium "Sea Life"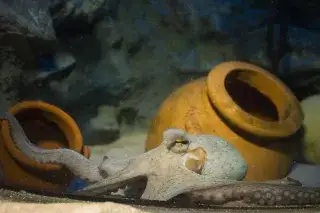 If you don't want to get active yourself in the Olympic swimming hall, but prefer to watch others swim, then Sea Life is the right place for you.
Because in Munich's largest aquarium there is an incredible variety of aquatic life - from fearsome sharks to cute turtles or relaxed octopuses.
BMW Welt: Art on four wheels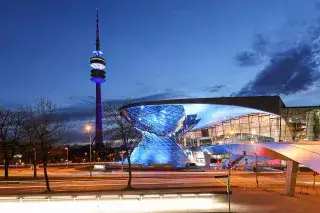 With its modern architecture, BMW Welt isn't just impressive from the outside: If elegant car design gets your heart pounding, you're in the right place. In the Brand World, famous car manufacturer BMW exhibits its own vehicles and some from other companies, while the neighboring BMW Museum continues to present exciting temporary exhibitions.
Cozy tea enjoyment in tea houses and stores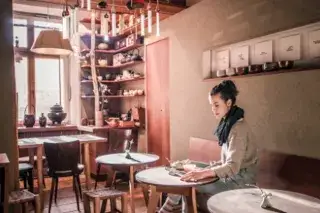 What's more relaxing than a hot tea in the warmth when raindrops are beading on the glass outside? And when it comes to tea houses and tea stores, Munich has a lot to offer.
From specialty stores like Tea For you (customer page) in Schwabing, Tee-Handels-Kotor Bremen (customer page) in the Stachus Passagen or Margot Schreiners Teestüberl in Obertaufkirchen to Teehaus Tushita in the Glockenbachviertel with its Japanese flair - here you will find the tea of your choice.
Valentin Karlstadt Musäum: As quirky as it gets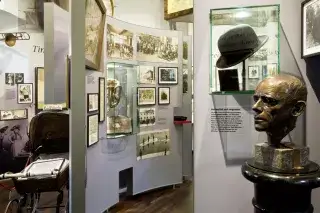 Have you ever seen a winter toothpick? Or a melted snow sculpture? These and other bizarre exhibits from the lives of legendary Munich comedians Karl Valentin and Liesl Karlstadt can be seen in the Valentin Karlstadt Musäum within the Isartor. A visit always makes for good fun. If you fancy, you can then take a cup of coffee in the Turmstüberl at the very top of the historic city gate, have a little chuckle to yourself, and feel sorry for the passersby that hurry through the rin outside.
Sightseeing tour by streetcar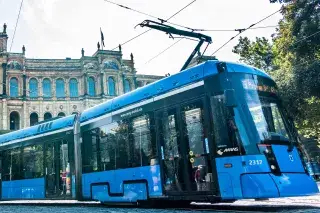 Tram 19 is the perfect option for a sightseeing tour of the city center in bad weather - you don't even need an umbrella for this Munich tour in the rain. Line 19 passes through some of the most beautiful corners of Munich, with stops including Lenbachplatz, Theatinerstrasse, and Max-Joseph-Platz. It then passes Maximilianstrasse with the impressive building of the government of Upper Bavaria, curves around the Maximilianeum, and strolls through the Haidhausen district to the final stop of Berg am Laim. The best part: This city tour isn't even expensive - you'll only need a normal ticket.
Tram 21 has also been running most of this sightseeing route since 2018. It starts at the Westfriedhof cemetery, crosses Stiglmaierplatz to Lenbachplatz, and from here the path splits to Max-Weber-Platz with line 19 - then it continues through Haidhausen and Berg am Laim to the final stop at St.-Veit-Strasse.
And, lastly, yet another sightseeing tip by tram: Line 16 also passes numerous sights, such as the large-scale sculpture Mae West at Effnerplatz, the Bayerische Nationalmuseum (Bavarian National Museum), the surfing wave at Eisbach, and the Maxmonument (Maximilian II Monument).