Frequently Asked Questions
FAQ - Oktoberfest poster competition
What you need to know about the Oktoberfest poster competition: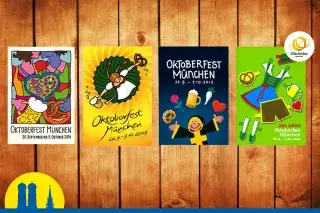 Professional graphic artists, graphic designers, artists, Art Academy and Visual Communications Applied Science University students, and anyone who can upload a poster for Oktoberfest in line with the technical and content requirements.
Participants are excluded from taking part in the poster competition if they have any economic or other ties to one of the jury members, their company or are an employee or representative.
Every participant is entitled to upload one design. Alongside the poster in PDF/X format, we require a preview image of the design as a jpg (for details, see Eligibility Requirements).
In Addition, the following personal information must be entered in the participation form:
Name
Birth date
Address
Accessibility (phone number, email adress)
Website
Short resumé (PDF)
A valid email address is required to take part in the competition.
If you submit your design as a team, a name, phone number and small resumé (PDF) to take part is required from each team member.
Designs can be uploaded from the 28th November 2022. Only designs that have been digitally created as a PDF/X in DIN A1 portrait format may be submitted. In addition, a preview image as a jpg is required.
The full requirements can be found at the Eligibility Requirements.
Only one design can be uploaded per participant.
The last upload date is Thursday 22th December 2022.
After submission, the competition work you have handed in will be subjected to screening, according to the following criteria:
Graphic quality
Content-related and technical check
Suitability for licensed items
The online vote will take place in the end of January 2023. The final selection from 30 designs will take place at the end of February 2023, with a jury of professional, expert judges.