Shopping center in Munich: Shops, restaurants and more in Neuperlach
Neuperlach Zentrum Shopping Centre (pep): Shopping area in the east of Munich
With 125 specialty stores and more than 2,000 parking spaces, the Pep Neuperlach shopping center, east of Munich, is a perfect place to start your purchases.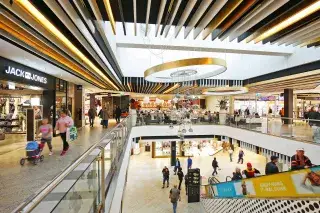 Fashion, shoes, cosmetics, jewelry and electronics in one shopping mall
The Neuperlach pep shopping center is adorned by the light-flooded atrium with a glass cupola, around which the numerous stores and boutiques are grouped. Thus all stores are within easy walking distance. The atrium also serves as place to linger a while. Three floors of diverse stores offer a great number of
top fashion brands, shoes and purses

cosmetics and personal care items

watches and jewelry

electronics and multimedia

flowers, books, confectionary, gifts and much more.
Fashion shows, gifts, a shopping center coupon and special offers
Entertaining activities, such as fashion shows, Easter and Christmas displays and retail markets are organized here throughout the year.
There are also special offers which make shopping even more pleasant. For example, a shopping center coupon enables holders to pay without cash in almost all pep stores and in 70 other shopping malls. Nicely wrapped, the coupon is also a perfect gift for every occasion.The coupon (in credit card form) can be purchased at the customer information counter on the ground floor.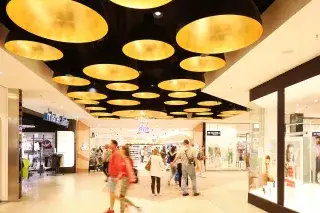 Hairdressers, opticians, pharmacies, supermarket
In addition, there are numerous service providers, such as hairdressers, opticians, travel agencies, a pharmacy, drycleaners and a special store for hearing aids.
Three banks, a ticket shop, a large supermarket on a floor below and a full-service department store on the ground floor complement the range of offers.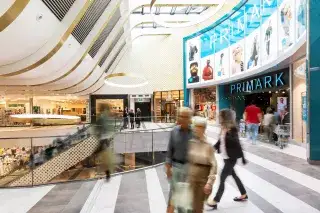 Pep Munich: Gastronomic variety and journey
Be it a brief coffee break during a shopping spree, a light snack in between or an proper restaurant visit, there are broad culinary offers from an ice-cream parlor, juice and coffee bar, fast-food chain, pizza parlor, Asian snacks, sushi to Chinese restaurants.
This gastronomic variety is one of the reasons pep is not only visited by residents from east of Munich but also from other parts of the world. The excellent transport connection makes this easy:
The subway line U5, as well as five bus lines stop right at the entrance.
For visitors arriving by car, two car parks with more than 2,000 parking spots are available. 
Contact: Neuperlach Zentrum Shopping Centre (pep)
Shopping center Neuperlach
Ollenhauerstr. 6
81737 Munich

Opening hours
Mon-Sat: 9.30am - 8pm