Former indoor swimming pool Badenburg: Location, history, specifics
Badenburg in the Nymphenburg Palace Park: Public bathing scene
In addition to Nymphenburg Palace, there are other small castles in the palace park that are worth a visit. One of them is the Badenburg, the first heatable indoor swimming pool of modern times. What you need to know about it and where to find it: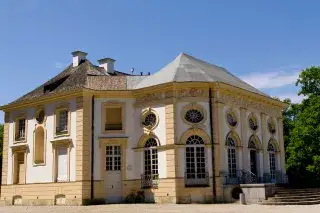 mde
300 Jahre Badenburg: Das ist jetzt neu
Am 6. August 1722 veranstaltete Kurfürst Max Emanuel zum ersten Mal eine Feier in der Badenburg. Zum 300. Jubiläum hat die Bayerische Schlösserverwaltung das Lustschluss frisch renoviert und neu gestaltet:
Im Schlafzimmer des Kurfürsten stehen erstmals seit fast 100 Jahren wieder authentische Sitzmöbel mit leuchtend blauen Taftüberzügen.
Die empfindlichen ostasiatischen Lackmöbel haben neue Vitrinen bekommen und die Möbel wurden nach historischer Überlieferung neu angeordnet.
Eine neue Raumbeschriftung in drei Sprachen (Deutsch, Englisch und Italienisch) bringt den Besucher*innen die Badenburg und ihre Ausstattungen näher - zum Beispiel die Nutzung und Funktionsweise des Bades in der Barockzeit.
Parkett und Steinfußböden, Holztäfelungen, Stuckdekorationen, Tapeten und Wandfliesen sowie Gemälde und Möbel wurden einer gründlichen Reinigung unterzogen.
History of the Badenburg: Bathing pleasure at the castle courtyard
Badenburg is located at the southeastern end of Badenburg Lake in Nymphenburg Palace Park.The structure, created by Joseph Effner between 1719 and 1721, is considered the first heated indoor swimming pool of modern times. However, it was not open to the public at the time. Only the court nobility was allowed to splash around in the water there.
Pure luxury: Elector Max Emanuel's bathtub was as large as an average two-room apartment today. In the basement, there is a basin measuring 8.70 by 6.10 meters. It is so deep that one could even swim in it.
The interior is also magnificent: Dutch tiles, stucco marble and a noble ceiling painting. Nymphs and naiads adorn the ceiling of the stucco marble-clad bathing room, which even has a gallery for guests.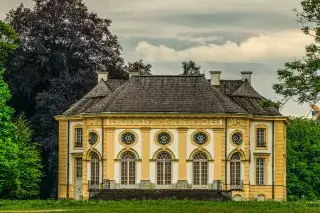 Ballroom in the Badenburg
No less spectacular is the large banqueting hall on the main floor with its playful stucco work, heavy marble floor and a large vaulted fresco. In terms of splendor, the Badenburg is in no way inferior to Nymphenburg Palace.
A contemporary travel description from 1792 puts it in a nutshell: "The Badenburg, the most beautiful bath, with all the comforts that splendor can offer, was built by Elector Maximilian Emanuel. I do not recall having seen anything more ornate and better conceived anywhere."
Location and accessibility: Badenburg
Location: The Badenburg is located in the Nymphenburg Palace Park, west of the city center, in the Neuhausen-Nymphenburg district.
Public transportation: Tram line 17 runs from the city center and the central station. It has a stop "Schloss Nymphenburg", about 500 meters from the palace grounds. If you are not afraid of a short walk of about 2 km, you can also get off the S-Bahn at the stop "Laim".
Parking spaces: Parking spaces are available directly at the castle in the "Schlossrondell". There you can usually find a parking space, but on Sundays and holidays it can be tight.
Badenburg in the Nymphenburg Palace Park: Public bathing scene
Nymphenburger Schlosspark Eingang 18
80638 München
Tel: +4989179080

This is a carousel with rotating cards. Use the previous and next buttons to navigate, and Enter to activate cards.