Isar: Much more than a river for Munich
The Isar - Munich's paradise for bathing, relaxing and much more
The Isar is the perfect place in Munich to relax - and not just at the Flaucher. Here you can find out where you can swim, barbecue or go boating.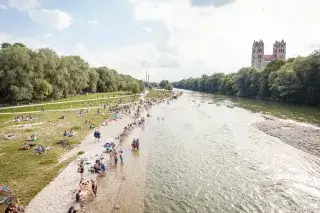 Mde / Mónica Garduño
The Isar: Facts and Figures
Spring: Karwendel in Tyrol, Austria
Mouth: into the Danube south of Deggendorf
Length: 292.3 km
Altitude difference: 850 m
Cities passed through: Munich, Geretsried, Bad Tölz, Freising, Landshut, among others
The Isar in Munich: Activities at a glance
The Isar flows through Munich from south to north for just under 14 kilometers and, with its flat banks, gravel bars and floodplains, is now the most important central recreational area in Munich .

The riverbanks are perfect for cycling, walking, relaxing and barbecuing.

Swimming and boating in the Isar is permitted in certain areas , as is surfing - always at your own risk.
The Flaucher is probably the best known Isar beach in Munich and a meeting place for refreshing, relaxing and partying.
You can also sail and discover the Isar by raft.
Swimming in the Isar: Here it is allowed
Upwards from the Flauchersteg to just before the Wittelsbacherbrücke bridge
From the Marienklausensteg to the Thalkirchner bridge
A few meters downstream from the Wittelsbacher bridge to the Reichenbach bridge
Downstream from the Großhesseloher railroad bridge to just before the Marienklause.
From the Max-Joseph bridge to just before the Oberföhring weir.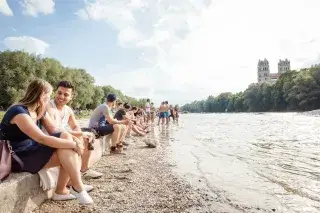 Barbecuing at the Isar: Where to find grilling areas
The Isar offers many opportunities for barbecuing - but only in the area of the barbecue zones on the gravel banks.
Since barbecue zones are constantly changing due to the river dynamics, it is worth taking a look at the signs on site as well as the Isar app developed by muenchen.de with the current barbecue zones on the Isar.
More Activities on the Isar
Every year from May 1 to mid-September you can discover the Isar by raft. On traditional wooden rafts you can go on a humid and cheerful river trip, whether as a club or company outing, as a single passenger or with family and friends.
Boating on the Isar is also permitted in Munich at certain sections. You can find the latest information here (in german).
With its moderate flow speed, the Isar-Seitenkanal in Thalkirchen offers the perfect conditions for water sports. Whether surfing on the standing wave or with a canoe or kayak - the confluence of the raft canal is the right spot.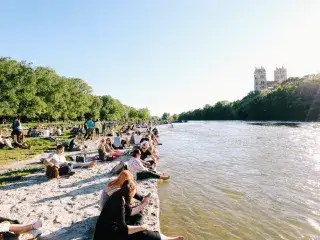 Sebastian Lehner
Live images directly from the Isar
What's the current situation? This is what you see during the day in the Isar webcam
This way (in german)
Isar
Reichenbachbrücke
80649 München
Barrier-free access
Barrier-free accessibility in the building
Accessibility - further information