Coffee, cake, breakfast and snacks: 6 cafés in the old town
6 tips for beautiful cafes in downtown Munich
Café tips in Munich's city center: Here you can get really good coffee, delicious cakes, a proper breakfast or a snack for in between.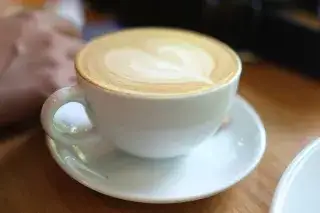 Café Frischhut ("Zur Schmalznudel"): legendary pastries
Sweet, hot, greasy and completely irresistible: these are the famous "Auszognen", also known as Schmalznudel or lard pastries. At Café Frischhut on Viktualienmarkt, better known as "Zur Schmalznudel," they taste especially good. Perfect when your stomach is rumbling and your feet are aching after a walk in the city center, shopping or a business appointment. And if you're in a hurry, you can also get the sweet happiness for takeaway!
Prälat-Zistl-Straße 8, 80331 München
Stadtcafé: Have a break between cultural activities
The Stadtcafé on Sankt-Jakobs-Platz is an institution among tourists and locals alike. There's almost no one who hasn't had a coffee here, enjoyed the view of the square and the synagogue from the terrace, refreshed themselves after a visit to the Munich City Museum, or rounded off a movie night at the Film Museum with a glass of wine and conversation. Free Wi-Fi is available, as are breakfast and fresh dishes that change daily.
Sankt-Jakobs-Platz 1, 80331 München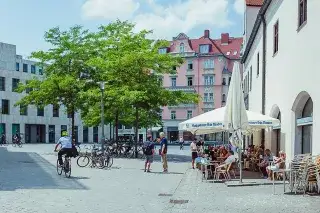 Rischart's Backhaus: pedestrian zone, Marienplatz, Viktualienmarkt
A true Munich bakery institution: Max Rischart senior opened his first bakery in the Isarvorstadt district back in 1883. Today, you can feast from café to café on foot in the city center: for example, breakfast until 12 a.m. at Rischart's Café zur Mauth in the pedestrian zone opposite Hirmer-Haus: omelettes á la Rischart, ham & eggs or the famous Munich white sausages. At lunchtime, you can strengthen yourself at Marienplatz with a view of the city hall with tarte flambée or the delicious Kaiserschmarrn. And in the afternoon, the famous cakes and tarts are served with a cup of organic Fairtrade coffee on the terrace above the Viktualienmarkt.
Marienplatz 18, 80331 München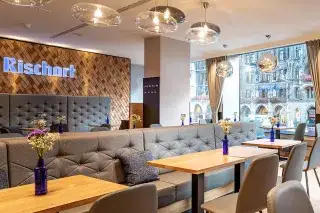 The Bar Centrale: Italy flair in Munich
A visit to Bar Centrale feels like a short trip to Italy: The espresso bar has a small TV that plays soccer all day, of course perfect Italian espresso from imposing machines, and an original Italian breakfast, reduced to the bare essentials: A cappuccino with a cornetto, the Italian croissant. Served by Italian waiters, of course. Buongiorno!
Ledererstraße 23, 80331 München
Café Glockenspiel: Perfect view of the city hall
If you are hungry for breakfast, cake or lunch at Marienplatz, the Café Glockenspiel is the place to go: The name comes from the fact that from there you have a view of the world-famous Glockenspiel of Munich's city hall, which is hard to beat. The staircase alone is worth the visit and a popular Instagram motif. There's a choice of breakfast, lunch, and dinner: On the one hand, there's the great view of the city hall, on the other, the bright winter garden with a view of the Old Peter - from a different perspective than you're used to.
Marienplatz 28, 80331 München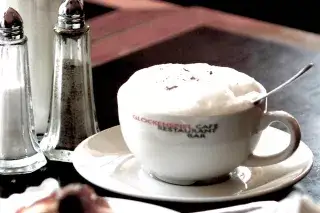 Café Luitpold: Munich's sophisticated coffee house in Brienner Straße
In 1888, Café Luitpold opened in the cosmopolitan city of Munich, on a par with coffeehouses such as the famous Café Central in Vienna or Café New York in Budapest. Writers and thinkers met here. In 1911, the "Blaue Reiter" (Blue Rider) was allegedly founded here by Wassily Kandinsky and Paul Klee. After being destroyed in World War II, Café Luitpold was reopened in 1948 in a simplified but still magnificent form as the Palmenhaus. On the first floor there is the smallest museum in the city, which tells the eventful history of the coffee house. And of course you can also have breakfast, coffee and cake or dinner here.
Brienner Str. 11, 80333 München