Enjoy sun and beer in Munich's beer gardens
Classic beer gardens in Munich's city center you should visit
Munich has great beer gardens for almost every taste. From the buzz of the city center to idyllic lakeside atmosphere, let us introduce you to 12 classic beer gardens with their peculiar characteristics.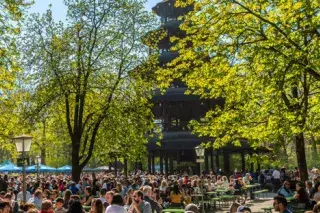 The top dog: Königlicher Hirschgarten
A few minutes' walk from Laim S-Bahn station, the "Königlicher Hirschgarten" lives up to its royal name. With around 8,000 seats, it is the largest beer garden in Munich and also in Bavaria - if not in the world. Augustiner beer is served at several taps under large chestnut trees and parasols. Non-alcoholic, König Ludwig wheat beer and Tegernseer Spezial are available at tap 2.
Best time to visit: on sunny days when it feels like the whole city is right there. This is because when all other beer gardens are full of people, you can always find a space in the Hirschgarten.
Why we love it: because there's not much noise, and you can take drinks or snacks into the meadow nearby and enjoy the sun.
Specials: a refreshing "Dunkles Radler" (dark beer with lemonade), Steckerlfisch (traditional grilled fish) from the Fischer-Vroni-Stand and a large pretzel.
Hirschgartenallee 1, 80639 München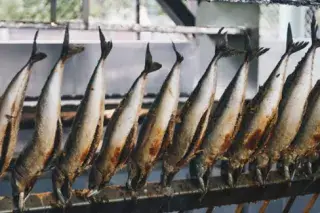 Drink without stress: the Taxisgarten
The Taxisgarten, not far from the Gern subway station, is quietly located between the Marienstift and the Women's Clinic, and has a manageable size with around 1,500 seats. The benches with backrests also contribute enormously to the coziness factor. And just like the atmosphere is the audience: a mixture of Neuhausers and business people, but little sightseeing and party crowd.
Best time to visit: if you want to enjoy a quiet chat with friends or family, the Taxisgarten is the perfect place. Large groups of people can relax here too. There's a self-service area where you get to reserve a table including a snack plate.
Why we love it: an hour at the Taxisgarten is just as reinvigorating as 60 minutes of yoga (and - for some - more entertaining).
Specials: enjoy the famous spare ribs (made using a secret recipe) with half a Radler. Unlike many other beer gardens, you can buy half liter mugs here all day.
Taxisstraße 12, 80637 München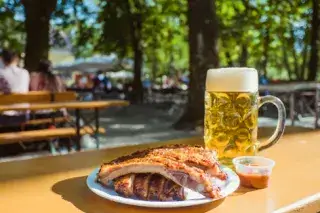 The light at the end of the garden: head for the Aumeister
On the northern edge of the English Garden, walkers, cyclists and day-trippers in particular will find a nice opportunity for a leisurely stop. Although the Aumeister is very popular, there is no hustle and bustle - after all, you come here to take a break. So there is always time for a chat.
Best time to visit: On the weekend or on bank holidays, when there's enough time for leisure. You either hitch a ride or take a walk from the Studentenstadt U-Bahn station.
Why we love it: No matter how thirsty you are, you can get a light, dark or warm beer at Aumeister - even in small glasses, starting at 0.3 litres.
Specials: The "Hirtengriller" (a grilled sausage with feta) and a waffle afterwards might be all you need.
Sondermeierstraße 1, 80939 München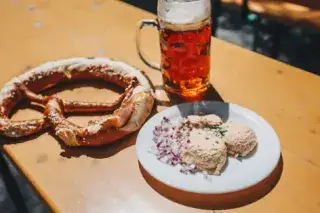 Tables directly on the lake at the Seehaus
Located in the very heart of the English Garten is the Seehaus. It is easier to reach by bike than with public transport - plus the trip is totally worth it. The location of the beer garden directly on the Kleinhesseloher See lake deserves an A with a star. Speaking of stars: Those who like celebrity-watching might find what they're looking for at the Seehaus. If you're looking for something a little more romantic, you can find a front-row seat by the lake and watch the swans swim by.
You can also sit comfortably in the elevated area of the "Bar am See / Haus" in the middle of the beer garden. Here you'll find everything from long drinks to champagne.
Best time to visit: During the weekend or in the evenings.
Why we love it: Say what you want, but the Seehaus is the embodiment of Munich itself.
Specials: The Seehaus snack board with obazda, sausage, radish and more - with a mug of wine.
Kleinhesselohe 3, 80802 München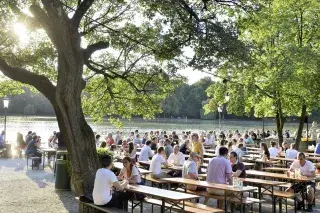 Love for detail: Hofbräukeller
From the Max-Weber-Platz subway station, you can stroll across the charming Wiener Platz past the neo-Renaissance building of the Hofbräukeller to the cozy beer garden. Under large chestnut trees or in the open air, around 1,800 visitors can find a shady or sunny spot (some with backrests). Probably no other beer garden offers such lovingly designed food and drink tables.
Best time to visit: When the sun has been shining for the whole day and you just want to retreat to a shady spot to enjoy a cold drink. There's plenty of both in the Hofbräukeller.
Why we love it: Here, guests feel truly welcome - whether they come from Haidhausen or Houston.
Specials: A tarte flambée, from around 4pm (weekdays) and midday (weekend). Besides, you can't get these everywhere. The same goes for a liter of light white beer.
Innere Wiener Straße 19, 81667 München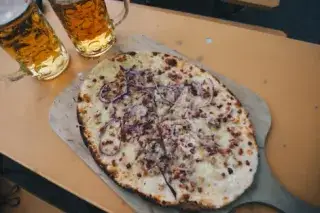 Take a break beneath the maypole: Viktualienmarkt beer garden
Not far from the Marienplatz S-Bahn station in the heart of the Viktualienmarkt, you'll find the beer garden with probably the most colorful crowd. From the tourist couple to the entrepreneur's wife with her shopping bags and the traditionally dressed man with his dachshund -  and it is well possible that all are having a chat with each other.
Best time to visit: When you're out and about in the pedestrian zone and need a break - or when the shops close.
Why we love it: There is no other beer garden where perfect strangers - from Munich and abroad - sit side-by-side so happily.
Specials: Everything is available here, so simply go through the Viktualienmarkt and put together your own personal snack.
Viktualienmarkt 3, 80331 München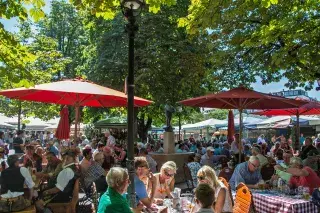 Chinesischer Turm: Probably Munich's most famous beer garden
The beer garden that almost everyone knows is located at the Chinese Tower in the middle of the English Garden. Getting there is associated with a short walk from the Giselastraße U-Bahn station. With about 7,500 seats, the Chinese Tower is the second largest beer garden in the city, but the crowd is generously distributed around the historic pagoda and the surrounding area.
Best time to visit: When you want to show visitors Munich's best side.
Why we love it: The feeling of dressing up in traditional costume early in the morning and celebrating amidst thousands of candles at the Kocherlball dance event which is celebrated in July. Simply unforgettable.
Specials: The classic beer garden meal: a "mass" one-litre mug of beer, a roast chicken and a large pretzel.
Englischer Garten 3, 80538 München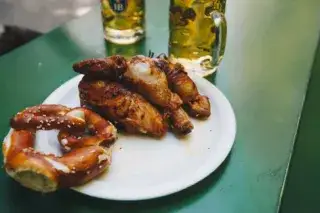 The wholefood garden at the Muffatwerk
Probably Munich's most environmentally-friendly beer garden, Muffatwerk can best be reached by bicycle or S-Bahn. It is located exactly in between Rosenheimer Platz and Isartor. With about 400 seats, this adjoined beer garden is an alternative to much larger beer gardens. As a certified eco-business, it also serves other purposes. Asides classic beer garden snacks, other options are available from the lava-stone barbecue.
The meat and poultry served here are organically bred. Vegetarians and vegans can also find something that suits their needs. Warm meals can be ordered and they'll arrive at your table at about ten minutes, freshly prepared. You can have some good Hofbräu beer, or its organic alternative - the Lammsbräu Urstoff.
Best time to visit: If you want to combine your beer garden visit with a concert, a lecture or a wild party - the Muffatwerk party area is just a few metres away.
Why we love it: As the concept shows, organic foods can also be delicious - but doesn't need to be expensive.
Specials: an organic pork neck steak from the lava stone barbecue or Rahmschwammerl (a creamy mushroom dish) with pretzel dumplings and an organic lemonade.
Zellstraße 4, 81667 München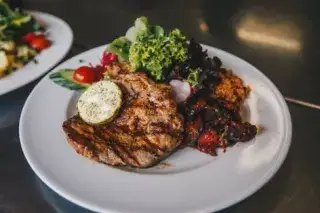 Seducing travellers near the central station: Augustinerkeller
The 5,000 seats in the Augustiner Keller are always well filled in good weather. Probably also because of its central location: It's only a few minutes' walk from the Hackerbrücke S-Bahn station, and the main train station is not far away either. The fact is that the Augustiner beer garden enjoys international popularity. But that doesn't mean that no locals come here, because the international aspect is precisely what makes the beer garden so charming. It is also the oldest in the city: it was first mentioned in 1812.
Best time to visit: For football fans, when an exciting match is being shown. For non-football fans, any other day.
Why we love it: At the Augustiner beer garden, you feel both at home like you are on holiday.
Specials: A shandy (aka Radler) and half a ham hock.
Arnulfstraße 52, 80335 München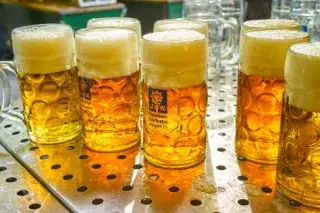 Wirtshaus am Bavariapark: A bit of Oktoberfest flair at Theresienwiese
The Wirtshaus im Bavariapark is located above the Theresienwiese about level with the famous Bavaria statue and only a few hundred meters from the Schwanthalerhöhe subway station. For some, the beer garden is a classic, for others an insider tip. Those who know it are enthusiastic. With its 850 seats, it is a cozy size and a popular meeting place after work.
Tip: For the impatient, the Fischer-Vroni stand at the main entrance with Steckerlfisch and a variety of fish sandwiches is a delicious alternative to good pub fare.
Best time to visit: Within the week, before 6pm.
Why we love it: Here, you can sense a bit of Oktoberfest flair all year round.
Specials: The "obadza" with red onions tastes excellent, comes in a good sized portion, and the price is comparatively fair. Enjoy this with a large pretzel.
Theresienhöhe 15, 80339 München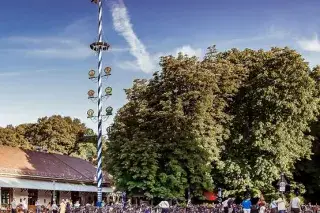 A classic in bloom: Paulaner Garten
Paulaner am Nockherberg is not only worth a visit for the Starkbierfest: The picture-book beer garden location between chestnut trees shines in new splendor after renovation work and offers street food flair in the beer garden, for example with the grill station, where you can get spareribs, burgers and other meaty delicacies, and other huts. The fountain in the middle of the Paulaner Garten is a popular photo motif.
Best time to visit: If you want to enjoy the feel of a relatively new beer garden, go already! The opportunity doesn't come that often.
Why we love it: Old love never dies - and a new one has never done anybody any harm.
Specials: The Alpine burger with mountain cheese and wedges, accompanied by a strawberry and tonka bean spritz or a soda from the Berchtesgadener Land region in flavors such as apricot-lemon or cucumber-cress.
Hochstraße 77, 81541 München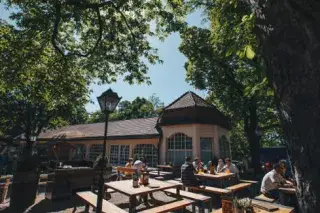 Waldwirtschaft Großhesselohe: It's all about music here
There's no way we'll talk about classic beer gardens without mentioning Waldwirtschaft Großhesselohe (or WaWi, as it is known amongst locals). It is located on the high ground around the banks of Isar and offers a breath-taking view - if you can find a place along the edge. Guests sit on red seats (with a comfortable backrest) while enjoying soft live music of a jazz band that changes every week. When the mood is right at WaWi, people get on their dancing shoes.
Best time to visit: When you want to listen to some music amidst that beer garden feeling with a hint of chic.
Why we love it: Behind the stalls you can hear the friendly employees talking to each other in Afrikaans, which sounds wonderful!
Specials: If you have a sweet tooth, try the original WaWi Auszog'ne and a bottle of cider.
Georg-Kalb-Straße 3, 82049 Pullach im Isartal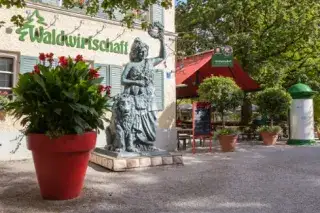 Text: Steffi Mayerhanser
Fotos: Sebastian Lehner, Anette Göttlicher, Seehaus, Lukas Schirmer, Augustiner, Bavariapark, Zum Flaucher