Popular restaurant in the heart of Munich with traditional food
Ratskeller: Traditional restaurant at Marienplatz in Munich
In its cosy and down-to-earth interior, the Ratskeller is known for its culinary and aesthetic appeal! Here, you find food specialities from Munich and Franconia accompanied by Löwenbräu beers (fresh from the tap) and wines from the wine estate at Würzburger Juliusspital.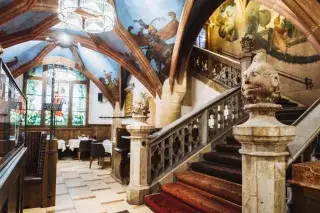 Bavarian and regional cuisine in a restaurant with history
On August 25th 1867, the foundation stone was laid and on August 1st 1874, the Ratskeller Munich opened its doors for the first time. Since then, guests are treated to Bavarian delicacies. Today the menu contains food from Franconia and other regions as well.
The chef Michael Schubaur, a pupil of the famous Bavarian Michelin star chef Otto Koch, creates meals with expertise and fantasy true culinary events in his pots. The tireless kitchen team only uses fresh ingredients of flawless quality and origin, preferably from the region.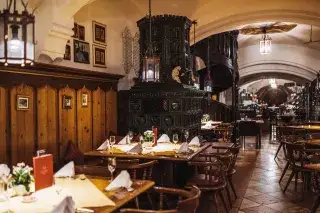 Brunch and events in the Ratskeller: What's on offer
The brunch choices in the Ratskeller are very diverse. From mid October until the end of May, every Sunday different brunch specialties are offered - like the Bavarian Ratskeller brunch, the Italian o-sole-mio brunch, the fish & seafood brunch or the Advent brunch.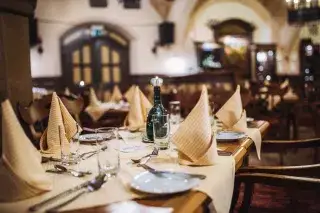 How to get to the Ratskeller: directions
The Ratskeller is located directly at Marienplatz in Munich's city center, inside the New Town Hall (Neues Rathaus). It is thus easily reachable with public transport - simply take the U-Bahn or S-Bahn to the Marienplatz station.
Contact, opening hours and website of Ratskeller München
Ratskeller
Marienplatz 8
80331 Munich
Opening hours
Daily from 11am to 11pm
Kitchen open until 10pm