Palace, park, canal: What there is to see in Nymphenburg
Nymphenburg Palace: Info and tips about the palace and park
Located in the west of the city, Nymphenburg Palace (Schloss Nymphenburg) and its extensive park are one of Munich's top sights. Royal splendour, lavishly decorated interior and romantic little castles in the park will make your visit worthwile. Take your time, for there is a lot to see here!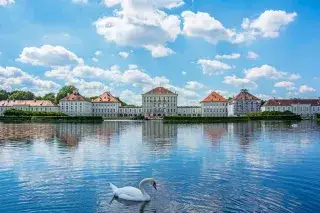 muenchen.de/Michael Hofmann
Visit Nymphenburg Palace: What you shouldn't miss
What there is to see in and around Nymphenburg Palace is easily enough for more than just one day:
You should definitely take a look inside the palace, as it is considered the most impressive remain of the royal splendour that dominated Munich over centuries
The various museums located in the area are also worth a visit - from natural history to porcelain, there is a lot to see and learn
Not to be missed: Admiring the huge fountains and and the symmetrical park grounds from the grand staircase
In the summer months, you can even take a gondola ride on the canal flowing through the palace grounds
If you have more time, you can also discover a lot in the park surrounding the palace: romantic little castles and palaces, canals, bridges and much more. The park is the second largest in Munich after the English Garden.
History and architecture: from gift to landmark
Elector Ferdinand Maria must have been overjoyed at the birth of his heir to the throne, Max Emanuel. For this reason alone he commissioned Nymphenburg Palace in 1664 as a gift to his wife Adelheid of Savoy.
The original design of a handsome Baroque palace was by Agostino Barelli. Later the building was modified in the style of rococo and classicism. During the reign of Elector Max Emanuel (1680 to 1726), the palace was remodeled and acquired its present dimensions. This included the Baroque redesign and expansion of the garden to its present size.
Max Emanuel's son, Elector Karl Albrecht (r. 1726 to 1745), commissioned the traffic circle in front of the main wing. It was considered an architectural sensation in its day. Elector Max III Joseph (r. 1745 to 1777) gave the ballroom its present pompous decoration. Elector Karl Theodor (r. 1777 to 1799) opened the Nymphenburg Palace Park to the people. Under King Max I Joseph (r. 1799 to 1825), part of the rooms received a noble, classicist décor.
Nymphenburg Palace: Info and tips about the palace and park
Schloss Nymphenburg
80638 München

Tel: +4989179080

This is a carousel with rotating cards. Use the previous and next buttons to navigate, and Enter to activate cards.