Great shopping spots in Munich
8 hotspots for every shopper
Munich is a major attraction for shoppers in Germany and even around Europe. Lovers of luxury items or bargain hunters can find all they seek in the shopping oases, arcades and boutiques in the city. These 8 shopping hotspots in Munich leave nothing to be desired.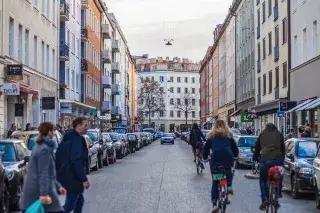 Lifestyle paradise: the city center's arcades
The Fünf Höfe on Theatinerstraße presents a modern and elegant appearance with exclusive shops, galleries and the Kunsthalle (art gallery). The Hofstatt between Sendlinger Straße, Hackenstraße and Färbergraben is also architecturally unique. Trendy fashion and home-décor shops create a stylish ambience. There are cafés and bars in both arcades. Things get very busy in the underground Stachus arcades. A mix of fashion boutiques, delicacies from all over the world and service providers like hairdressers, florists, pharmacies and chemists await potential customers.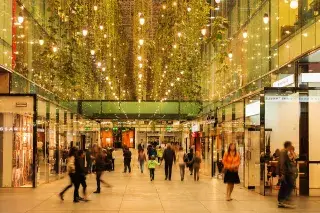 The pedestrian area: Neuhauser and Kaufingerstraße
Munich's central pedestrian area can be found where Neuhauser Straße merges with Kaufingerstraße. There is always a lot going on here, as there's a huge selection of things on offer. Between sights like the Karlstor and the Rathaus (Town Hall), traditional department stores, electronics shops, perfumeries and fashion stores line the streets one after the other. There are also some specialty shops such as leather dealers and hat shops. If you're lucky, you might get to see a routine display by one of the many street performers.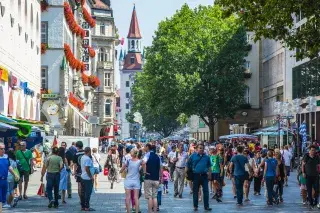 Shopping in the trendy district: the Glockenbachviertel
The area around Gärtnerplatz has long been known as a trendy district. In between pubs and bars, there are a few unique shops that sell jewellery, postcards, fashion or furniture. Young designers come here with their creations, so if you are on the lookout for a unique gift, you are bound to strike gold. You might even meet one of Munich's stars or celebrities as you are strolling around.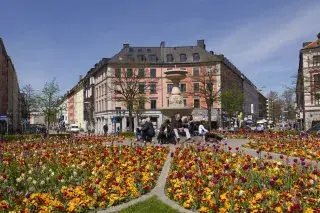 Tradition and trends: On 'Tal' street and Sendlinger Straße
There are traditional pubs, snack stands and bistros for hungry shoppers on the street called Tal. If you are looking for costumes and Bavarian souvenirs, you are bound to find something here. There is also a chemist and furniture shops on this street. For some good food, head to Sendlinger Straße. The street comes with a colourful mix of trendy shops, jewellery boutiques, soap shops and various footwear shops. The northern part is a car-free zone; until July 2017, the southern part was being tried out as a further pedestrian area.
Designer shopping: Maximilian- and Theatinerstraße
On Maximilianstraße, shops for high-end designer fashion are hidden in magnificent buildings from the nineteenth century. Classy sports cars line the road, which also has cultural attractions like the Bavarian State Opera, the Munich Kammerspiele or the Museum Fünf Kontinente. Elegant flair prevails on Theatinerstraße. In between famous fashion labels, there are cafés to relax in. Thanks to the art gallery, you can add a dose of Bavarian tradition to your shopping trip too.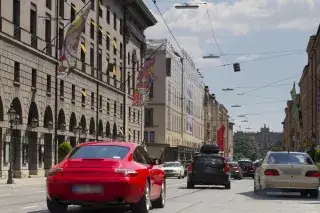 Unusual and eclectic: Hohenzollernstraße and Schwabing
International brands, cafés and countless shoe shops bring new excitement to Hohenzollernstraße every day. Between Kurfürstenplatz and Leopoldstraße, people of all generations shop together. No shopping desires go unfulfilled in Schwabing either. Fashion chains, book shops and perfumeries line up on Leopoldstraße. Regional products are available at the rustic Elisabethmarkt.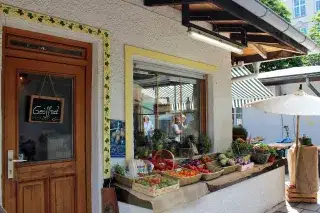 Student shopping scene: University district and Maxvorstadt
Students hang out in cafés near around the university or in the Englischer Garten.They also rummage around in second-hand bookshops or go in search of a new favourite item of vintage clothing – at affordable prices. Schellingstraße, Türkenstraße and Amalienstraße in particular are the places where young people live their lives. Maxvorstadt is also considered to be a part of the museum district par excellence, so you can perfectly combine a stroll with a cultural experience here.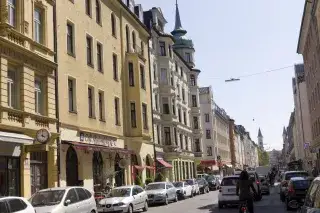 Concentrated shopping diversity: the large shopping centres
You will find everything you are looking for in Munich's shopping centres. There is often less happening here on weekends than there is at other shopping destinations. With 135 shops, the Olympia shopping centre (OEZ) is Bavaria's largest shopping centre. In the eastern part of Munich, PEP Neuperlach awaits with fashion, cosmetics, multimedia and more. The Riem Arcaden shops are very easy to get to with public transport or on the A94 if you are coming from the surrounding area. There is the Pasing arcades which attract shoppers from the west.