Past the Stachus, the National Theater and the Maximilianeum
Streetcar 19 in Munich: This is how the city tour in the tram works
Streetcar 19 in Munich passes many sights and is ideal for a short city tour - and for the normal streetcar price. Check out all the information.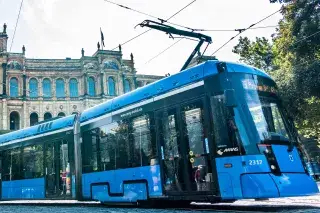 The streetcar line 19 at a glance
Start and end stops: Streetcar 19 runs between Pasinger Bahnhof and Berg am Laim station.
Frequency: from 6 a.m. - 10 p.m., streetcar 19 comes every ten minutes.
Special features: At night, the line runs as N19 between Pasing and Sankt-Veit-Strasse
History: The line first ran in 1908 between the then independent town of Pasing and Marienplatz.
Single ticket is enough for the tour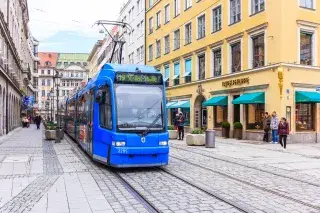 Streetcar 19 starts in Pasing, a district in the west of Munich that was an independent city until 1938 and has retained its small-town character to this day. From there, it runs along Landsberger Strasse in the direction of the city center.
For a one-time trip on line 19, it is a good idea to buy a single ticket. This has a validity of two hours on this line.
From Central Station to the National Theater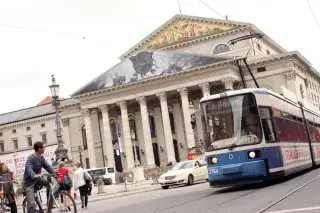 From the central station, the streetcar passes the impressive building of the Palace of Justice via Stachus, one of Munich's central squares, to Lenbachplatz, where you can see the gate to the Old Botanical Garden.
Via Promenadeplatz, the tram continues through the pedestrian zone to Max-Joseph-Platz (stop: National Theater). Here you will find the Residence and the Opera, but also Marienplatz and Odeonsplatz are in the immediate vicinity.
If you like, you can get off here, stroll a bit and get back on one of the next streetcars. The single ticket can still be used as long as the maximum travel time of 2 hours has not been exceeded and it is not a return trip.
From the National Theater to Berg am Laim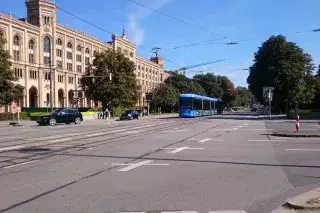 From the National Theater, Tram 19 descends one of Munich's most magnificent streets: Maximilianstraße. If you keep your eyes open, you might see a celebrity or two shopping. Passing the Maxmonument, you'll head straight for the Maximilianeum, home to the Bavarian Parliament.
Don't miss the magnificent view of the Isar River as you cross the bridge! Above the Maximilianeum, the streetcar continues via Max-Weber-Platz through Grillparzerstrasse and Einsteinstrasse to the final stop Berg am Laim Bahnhof.
By the way: Tram 19 also takes the same route back. If the one-way tour is too fast for you, you can marvel at Munich's sights a second time on the return trip, but then with a new single ticket.