Exclusive Sightseeing Trips, Day Trips and Private Tours
Johns Bavarian Tours Munich
Johns Bavarian Tours warmly welcomes you to Munich the capital of Bavaria! Offered are individually planned Exclusive Sightseeing Trips, Day Trips and Private Tours to all of Munich's and Bavaria's famous and lesser-known points of interest.

All Tours also offered in German / Alle Touren können auch in Deutsch geführt werden.

Guided car service with private driver and translator
Imagine having your own personal private driver and translator! Johns Bavarian Tours offers you a private guided car service in Munich and Bavaria. Experience convenience and comfort in a personalized car tour, with everything according to your wish. With your permission Johns Bavarian Tours will make this holiday one you will always remember.
King Ludwig's castles, beautiful landscapes and more
Bavaria has many hidden, charming and breath taking places to visit off the beaten track. There are also many back doors to the more frequently visited places like King Ludwig's castles to which John holds the keys.
No need to stand in long lines or wait for buses and trains; only having time for fast food. Instead you will have time to enjoy fantastic cuisine at fine restaurants on John's tours, while absorbing the beautiful landscapes and scenery Bavaria has to offer. Custom tours are always possible according to your personal advance requests. You will visit southern Germany's most thrilling and impressive sites and vista's, during your tours.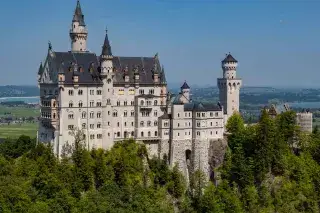 Munich, Neuschwanstein, Salzburg and Dachau
John's extensive knowledge of Munich, Neuschwanstein (King Ludwig II of Bavaria) and Dachau can be seen by visiting his Private Tours regarding these topics, along with three websites which John has written concerning the subjects. All of John's websites reflect his passion in dealing with each theme which he shares with you. 
Examples of John's tours include:
King Ludwig's II Castle Tour
Salzburg / Eagles Nest, Magical City of Salzburg
Dachau KZ with a city tour of Munich
Holiday Planning: If you have only a day, or a week John can assist you in planning your vacation in Bavaria from your landing in Munich to your return flight!
For a free Brochure (PDF) click here please.
Proudly serving Munich and Bavaria for close to a decade; you will benefit from John's more than 30 years of expertise by allowing him to help you with detailed holiday planning.
Johns Bavarian Tours - Contact